While Kindles and e-readers are more popular than ever, there's nothing quite like the feeling of a book in your hands. If you love reading as much as Matilda Wormwood or Hermione Granger, then you'll likely be accustomed to the sight of a wildly overflowing bookcase.
But, while your love of books might be endless, your space probably isn't. If you've found yourself with more books than shelves for them to live on, now's the time to get creative with your literary storage, and we can help. Find out:
How to clean your books for storage

Packing your books into a storage unit: our top tips

How to store books

at home
The great news is there are loads of eye-catching and practical options for you to work with. From how to clean your books to storing them in a storage unit and creating some great solutions in your own home, we've put together a collection of our favourite tips and ideas to get you started.
How to clean your books for storage
Before you get started with your storage solution, you'll need to clean your books and repair any damage so that they go into storage in the best possible condition. Here's how:
1. Take stock of what you've got
With a YouGov survey finding that the average UK adult reads around ten books a year for pleasure alone, it's no surprise that many of us have a healthy collection just sitting there gathering dust. A good place to start is to have a declutter. Gather all your books in one place and sort them into three piles depending on if they're worth keeping along with the condition that they're in:
Keep:

while you'll need to clean them first, make sure you're putting all the books you're definitely keeping to one side so you don't accidentally get rid of any classics or those with sentimental value.

Donate:

any books you definitely don't want to keep can be donated to charity shops, libraries or schools. You could even set up a book swap with your friends or family.

Damaged:

any books that are dirty or have suffered damage can be put aside and repaired or, if they're beyond rescue, recycled
2. Removing dust and dirt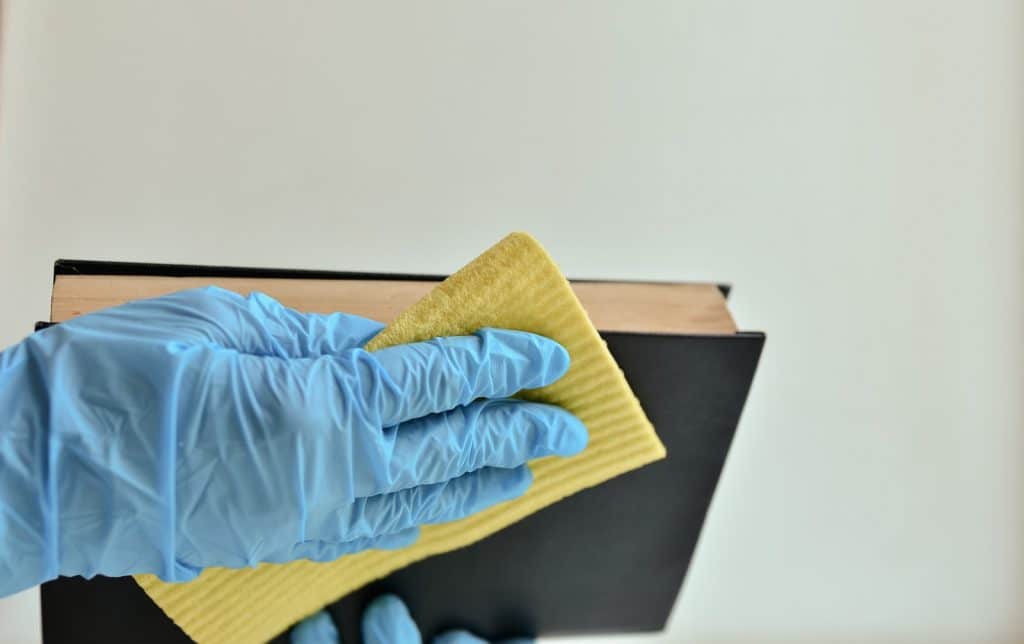 Packing away books that are stained, dusty or dirty can lead to long term damage and staining. So, first of all, you'll want to get rid of any dust that has accumulated on your books. 
Using a soft brush or small paintbrush, and keeping your books closed, gently dust the cover, down the pages and across the top and the bottom, being careful not to press too hard in case you tear the pages. You can also use a small hoover attachment with a piece of fine cloth over the top to get inside the pages. 
To remove dirt from your books, try these top tips:
Holding your pages together tightly, use a small piece of fine sandpaper to gently rub the edges of your book to remove discolouration or stains – just be careful of the dust!

Using a very lightly damp cloth, wipe the cover gently to remove any sticky stains.

For pencil marks or smudges from dirty hands, simply take a clean rubber and gently rub the marks 

Talcum powder or cornflour can do wonders on grease stains – just sprinkle some onto your page, cover with a piece of kitchen roll, close and leave for at least 24 hours to let the powder absorb the stain. 
3. Repair any damages
If your books are damaged, chances are they'll only get worse if you decide to simply pop them straight into storage. Instead, take the time to repair any damages
Freeze books infested with mites:

if you notice tiny little white bugs in your books or holes in the paper, chances are you might have mites. To get rid of them, you'll need to pop your books into sealed plastic bags and put them in the freezer for a minimum of two days to kill off the mites. Then, when you're done, use a hoover to hoover up any remains.
Deal with damp and mould:

if your books are old or have been in storage for a long time and now smell a bit musty, air them out for at least 24 hours in a dry room to get rid of any dampness. If they still smell after that, pop them separately into a box filled with rice or clean, unused cat litter and leave it to sit for a few hours to absorb any unwanted odours.
How to store books in a storage unit
When it comes to storing books in a storage unit, it's most important to ensure they're properly protected to avoid humidity or moisture. You'll also want to pack your books in the right way in order to keep them in perfect condition and avoid any long term damage to the pages, cover or spine. 
Packing your books
Properly packing your books may take a bit of time, planning and preparation, but will also reduce the likelihood that they will warp or deteriorate over time. It's all about choosing the right kind of box:
Storing books in cardboard boxes
If you're wondering how to store books for short-term storage, generic cardboard boxes are great, but be mindful that when choosing a box for longer-term you'll need to select one made from acid-free paper to avoid further damage to your books. When deciding on cardboard boxes for your book storage, make sure that they're brand new, or at least in perfect condition. As books are extremely heavy, you'll need to check for any signs of damage on the box first, such as mould, wetness or any flimsy materials.
Storing books in plastic boxes
An ideal choice for long-term storage, plastic boxes are not only strong and durable but also help to protect your books from moisture or any other damage due to their airtight seal. 
However, as they don't allow for your books to breathe it's a good idea to open your boxes every so often to let some air in, especially if you're storing them for years at a time. 
How to pack books
No matter what storage container you opt for, you'll need to make sure you're using the right packaging materials and are packing your books in the right way to avoid damage, especially if your books are older or more delicate.
First, you'll want to line the inside of your box with some crushed acid-free packing paper. This is to protect the delicate paper and covers of your books.
Then, sort your books by size, and try and keep these together as it will make packing much easier for you. You should never pack your books with the pages facing down, as this can put unnecessary stress on the spines, while also being more likely to bend the pages themselves. Instead, there are 3 simple ways to pack your books:
Stacked flat

Standing up, with their spines facing each other

With the spines against the bottom of the box
To make the most of the space inside your boxes, utilise a mix of these methods for the best way to store books. For extra protection against yellowing, you can even wrap each individual book in acid-free packing paper, or simply slot a piece of cardboard between each title. 
The dos and don'ts of storing books in a storage unit:
Do: keep your boxes off the ground so they are less likely to come into contact with moisture and water, which can cause books to rot and warp
Do: avoid extreme temperatures which can cause your book to fall apart
Do: keep your books away from direct sunlight, which can fade covers and dust jackets and cause your pages to yellow
Do: reinforce the bottom of your boxes and every seam with packing tape – both for added strength and protection from dirt or moisture
Don't: wrap books in newspaper sheets as the ink can stain the pages and the acidity may destroy your book
Don't: pack your books in larger boxes, as they'll be too heavy to carry. Instead, utilise smaller boxes for ease of transportation
Don't: forget to label your boxes, so you know exactly what's in each
Here is some more information on the size storage you might need for your number of boxes, so you're not paying too much for space you don't need. 
Ideas for how to store books in your home
Just because you don't have loads of shelving space in your home doesn't mean you can't utilise what room you do have to keep your books close at hand – you just have to rethink outside the box (no pun intended!).
1. Create a cosy reading space
Whether you have a little corner in a living space that needs sprucing up or a spare room that could do with cosying, creating a peaceful reading area is a great idea. Grab a spare chair or bean bag with a comfy cushion and blanket, use a coffee table and reading lamp to illuminate the area and add in a wicker basket filled with books. Update the basket of books every month and you've got yourself a simple space for storing your favourite reads.
2. Mount wire baskets to your kitchen wall for cookery books
Storing your cookery books in the living room bookcase is impractical, right? Well, how about getting your hands on a wire basket, mounting it to your kitchen wall by the base and there you have it – an ideal home for Nigella and Jamie's recipes.
3. Upcycle!
Have you got an old step ladder you don't need anymore or some spare pallets lying around? Upcycling is certifiably therapeutic and satisfying and, when it doubles up to create functional storage space it's a double win! If you have an old wooden step ladder in storage then get your hands on some sandpaper along with your chosen paint or varnish to spruce it up. It's now ready to rest against an otherwise plain wall, with a collection of your books propped on the steps. Pallets are also amazingly versatile – take a look at some of these YouTube tutorials for some amazing book storage inspiration!
4. Spice up your life
Purchasing items from Ikea and not using them for their originally intended purpose is a tried and tested trend. Their spice racks have been repurposed for a variety of reasons around many homes, including perfume shelves and jewellery storage – we're suggesting you give them a lick of paint and either mount them to a wall or to the side of a chest of drawers. Some of your books now have a brand new home!
5. Opt for a simple stack
Stacking your books in a uniformed size order is a simple idea that often gets overlooked. Sturdy hardbacks make for great stacking and the completed look is a colourful makeshift coffee table – just don't forget to use a coaster!
So there you have it, our top tips for how to store books to keep them in perfect condition.
Looking for some more advice? Take a look at the rest of our blog posts now for helpful tips and guidance for all your moving, decluttering and self storage needs. If you've got a question about our self storage, please get in touch with us now on 0800 321 3211 or visit your local store today.