It's no secret that the coronavirus pandemic has hit businesses hard. With lockdown preventing us from heading to the office, working from home is now a long term solution and the new normal for most people around the world. However, creating a dedicated office space doesn't have to be an overwhelming task, and there are many options to think about even if you don't have a lot of room. It doesn't have to cost the earth, either, and there are plenty of helpful tips to help you create the perfect workspace.
So, if your productivity is dwindling and you want to use your newfound time to improve your office, have a look at our 5 affordable home office ideas to help you make the most of your home, and learn how to create a space that works for you.
1. Create a dedicated home office space to call your own.
When working from home for long periods, it can be difficult to remain productive and motivated. It's time to change that. The key to success lies in being able to clearly distinguish between your personal and working lives. While it can be tempting to stay in bed all day, creating a separate workspace can go a long way towards keeping you on track. By creating a dedicated area, it means that, once the day is done, you can switch back into 'personal mode' and relax without being sucked back into work.
In fact, a study by Michigan State University found that a three-second interruption can double the number of mistakes you make in your work.
It's no secret that working from home leaves us open to many more distractions, which can prevent us from working to full capacity. When planning a home office, it's important to take note of the low-traffic areas in your home to find a space where you won't be disrupted. After all, there's no point setting up an office in the living room if this is where your family spends most of their time during the day. 
It's all about making the most of your space, even if it's limited. A cheap cork or whiteboard is a great way to utilise empty walls – you can even purchase a tin of chalk paint to create a blackboard to pop any memos or notes on. If you're feeling creative, buying some spare fabric to sew your own curtains is a great way to distinguish between your working and living areas.
You don't need to invest in expensive equipment or furniture in order to work from home, you just need to think outside the box. For example, wooden crates or steel pipes make the perfect base for office furniture, simply pop a plank of wood or a spare kitchen counter on top. Similarly, inexpensive memory foam cushions can help to support your back and neck if you don't have access to an office chair.
 2. Convert unused space in your home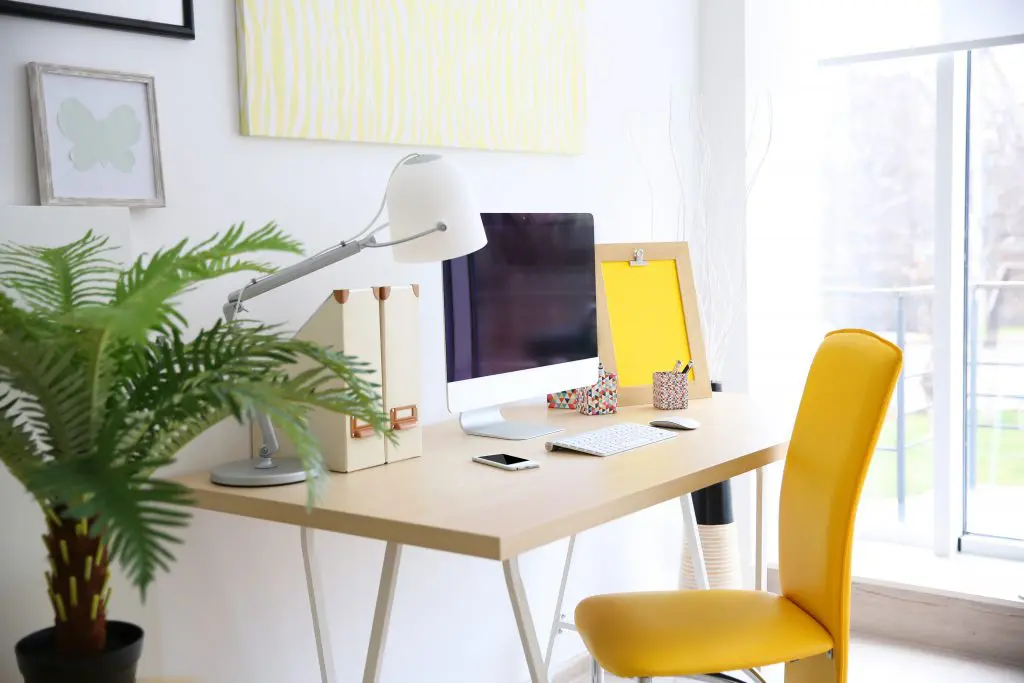 Don't have the luxury of an entirely separate room? There are plenty of home office ideas and small spaces around your home that you can convert into the perfect office with relatively little time or money.
Tall built-in cupboards or wardrobes make the ideal office space, just rearrange the shelves to ensure you have enough room to sit and work. The best part? Simply close the doors at the end of the day to keep everything hidden and out of sight  – the best way to truly switch off. Similarly, reinventing the area under your stairs or an awkward alcove is the perfect way to make the most of your space, and is ideal for keeping things accessible yet tucked away.
Even the narrowest of spaces can be used for a workspace, and you can easily DIY a custom-made shelf to fit, you just need a spare piece of wood and some nails to secure it to the wall.
3. Move it outside
If you're running out of space and are lucky enough to have a garden, converting a shed or summer room into a home office is ideal for creating a quiet area where you can focus and work in privacy without any distractions.
Transforming a used shed into a peaceful home office space is relatively simple and can be done on a budget. Here's how:
Make room for your equipment: Whether you're building a new shed for your tools or putting lesser-used items into storage, it's important to create a space that serves one function only. Make sure to completely clear out your shed or garden room before you get started.
Deal with any maintenance or structural issues: From leaking to holes, an unsteady roof to cracked windows, you'll need to ensure your new office space is weatherproof if you want to avoid water dripping into your morning coffee.
Be creative: You don't need to install electricity in order to work from a garden shed. If you're a regular camper, the battery or solar-powered lamps you probably already have are ideal, or you can pick up some cheap string lights and USB reading lamps to add some light and warmth into the room. If you're worried about the cold, paraffin heaters offer a simple solution and are cheap and cost-effective to run while those who require power for laptops or computers can purchase a power bank or portable charger.
Don't forget the interior: Once your shed is complete, it's time to consider the interior. Decorating your working space in your favourite colours and adding your favourite photos or prints from around your home can also help you feel more comfortable. 
4. Declutter and organise
With the world on lockdown, many businesses, both big and small, have had to rethink their office and stock solutions. For example, if you're a small business owner or sole trader and the current climate has seen your sales decrease, a surplus of stock building up can make you feel overwhelmed. 
Even if working from home is a temporary measure, ridding your space of clutter and mess can go a long way towards making you feel more relaxed and motivated, and helps to think more clearly. 
In fact, scientists at the Princeton University Neuroscience Institute have found that constant visual reminders of disorganisation drain our cognitive resources and reduce our ability to focus while the National Association of Professional Organizers reports that being organised will save you around 60 minutes a day.
So, if you're sitting on stock at home, why not make yourself more comfortable and create some additional space by investing in a self-storage unit? A safe, secure place to store stock, storage units are a cost-effective option for many business owners, and are available in a range of sizes, so you're only paying for what you need.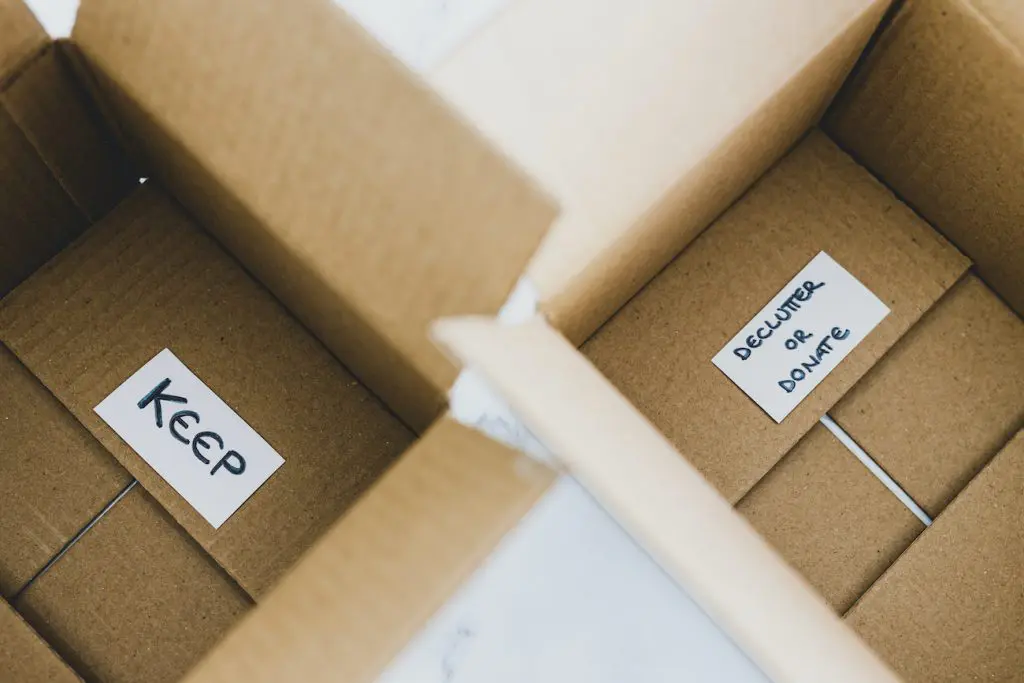 With 24/7 access and the flexibility to upsize or downsize according to your needs, we make it easy for you to tailor your business storage solutions to your success.
5. Repurpose and recycle to give your home office some personality
You don't need to spend lots of money to create a winning workspace, and there are plenty of simple, and affordable, decorating hacks you could use to elevate your space. One of our favourite affordable home office ideas is to repurpose and recycle. 
Utilising platforms such as Facebook Marketplace or Gumtree is a great way to furnish your home office on a budget if you don't have any office furniture. You can easily buy chairs, desks and computer equipment at a fraction of the cost simply by buying second-hand. 
It's also simple to repurpose items you already own. Perhaps you have some old bedside tables or a dressing table you don't use? If you're looking for a cheap solution, upcycling furniture or accessories is a great way to keep your home office decluttered and organised. If working from home is a temporary measure due to the current lockdown, washi tape is a great way to add personality and patterns to furniture and walls while adhesive wallpaper or hooks can be used to hang artwork to brighten up your day.
Similarly, tester pots of paint are ideal for bringing some colour to a space or to revitalise an old piece of furniture. After all, your office is your own space, and now that you've created it the best way to ensure you want to work in it is to add a personal touch. Check out our eco-friendly guide to updating your home and office for more tips.
Make use of our home office ideas to make the most of working remotely
With constant distractions, limited space and a global pandemic happening around us, working from home is no easy feat. But, our 5 affordable home office ideas should help you to design the ideal space.
Create a separate workspace to keep distractions at a minimum
Make use of awkward and unused space.
Utilise your outside areas.
Keep your workspace clutter-free for maximum productivity.
Repurpose and upcycle existing or affordable furniture and accessories.
At Ready Steady Store, the health and safety of our customers, staff and our communities is our main priority, which is why all of our storage facilities are fully equipped to deal with social distancing guidelines.  We have limited access to our receptions to one customer at a time and face coverings must be worn.  All employees have been provided with appropriate PPE for safety. Similarly, we have set up cleaning stations in our loading bays and have introduced a contact-free move-in process for all new customers. Simply phone your local store or sign up online and your unit will be ready and waiting for you upon arrival. So, if you've got a question about our business self-storage, you can get in touch with us now to find out how we can help you to create the ideal home office.