Want to know how to organise a room with too much stuff? Ta-da! This post is for you. Whether you're planning a move or are craving a much simpler life, this article will help you tackle those items. The best way to de-clutter your home is room by room, completing each one before moving on to the next. Starting small will feel less overwhelming, and you'll get a lot more done fast. Here's how to organise your clutter.
Step 1: Try this simple de-cluttering system
Probably the trickiest part is deciding what goes and what you want to keep (and why). Here's how to organise your stuff with a very simple technique so you can sort it into manageable piles:
Keep and put away (we'll delve into more about storage later)
OK, you're going to need some kind of container or box for organising your things. Let's start with what you want to keep. Where will it live if you do? Have you even got space? Never keep stuff for the sake of it. Things like Christmas decorations can stay, you'll need them again, and our packing materials offer a few ways to organise your room. But if loft space is fast running out, you might want to store things elsewhere. Self storage is a great solution when you can't bear to part with an item.
Sell or donate
Got any unwanted items like clothes? Get them online! It'll stop them going to landfills. There's no doubt buying and selling second-hand clothes is a sustainable move, and we definitely should be doing this more. If a shirt is missing a button or two, grab that needle and thread, charitable donations are always very welcomed.
Recycle or trash
Next up, it's time to decide which items to bin and don't hold back. Items like broken hangers should never be kept.
If you can, look at what items can be recycled as well, like plastic bottles or pots. There's no use clinging on to used packaging because it looks pretty.
Here's some other non-essential items that need to go:
Uncomfortable or worn-out pillows

Old gadgets and mobile phones

Tangled or unwanted jewellery

Used magazines

Forgotten items under the bed

Last year's diary

Mis-matched socks
Organising room by room
Although every room is different, clutter is usually always the same – pretty overwhelming to sort. If stuff doesn't have a permanent home, it simply starts to pile up, whether in the bathroom, kitchen or lounge. The good news is that the above system will work anywhere clutter resides and make what you don't need more obvious. So if too much 'stuff' is weighing you down, let's tackle it now. Here's how to organise your room AND FAST:
Step 2: Bedroom
When it comes to organising a bedroom, start with the bedsheets. You'll be able to think more clearly once you make the bed. Then begin in one spot and quickly work your way around, removing anything you know you haven't used in a while. Things like old tissue boxes and pens can go straight in the bin. And chargers that no longer work. But pay close attention to any clothing that's out; you probably wear these garments a lot – even if they're flung over a chair.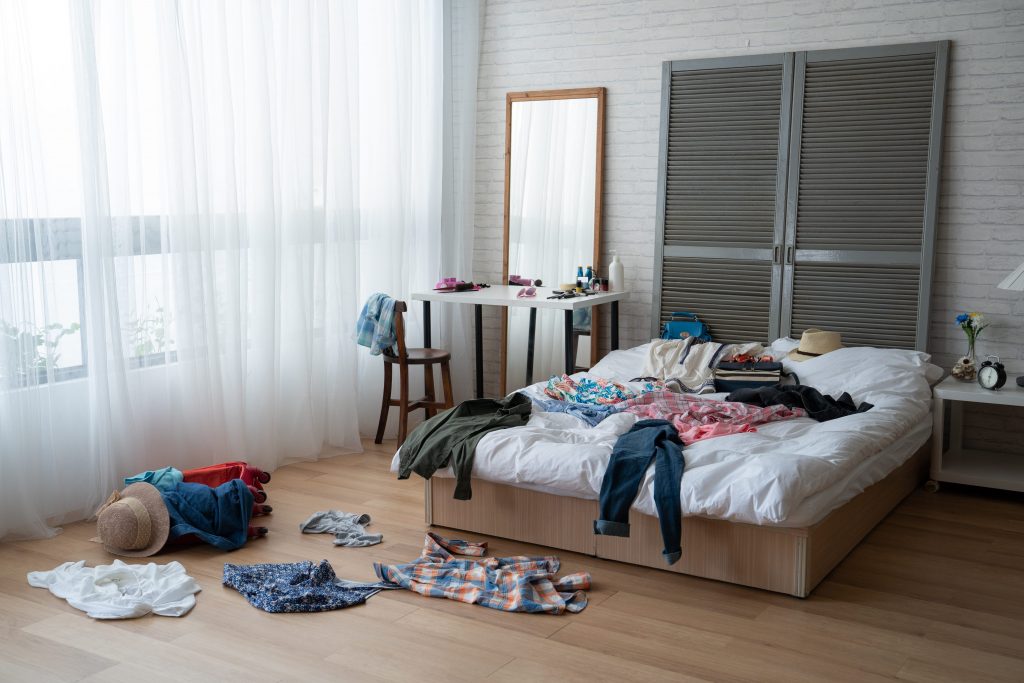 Step 3: Bathroom
Using the same keep, donate or recycle technique, scan the whole room, creating a mental list of what you don't need. Bathrooms usually have limited space, making actual clutter easy to see, like out-of-date cosmetics and old medication. Once you have removed everything from the cupboards and drawers, check out the shower and tub. Are there any old shower gels or soaps you don't use? You can then put any 'keep' items back and bin or recycle the rest. When it comes to organising a room, this one is fairly easy.
Step 4: Kitchen
Keeping your kitchen mess-free is a daily battle – so many things happen right here. It's where we cook, we eat and sometimes work too. No wonder it gets cluttered with things. Start by clearing your kitchen worktops (especially that stuff that shouldn't be there) and return anything that doesn't belong to its rightful place. If it doesn't have a use or a home, recycle or stick it straight in the bin and only keep out what you use most days.
Speaking of running your business from home, we can offer storage for businesses that sell their products online. So if you're looking for a better way to organise stuff and have somewhere safe to store stock, why not speak to our team about a storage unit?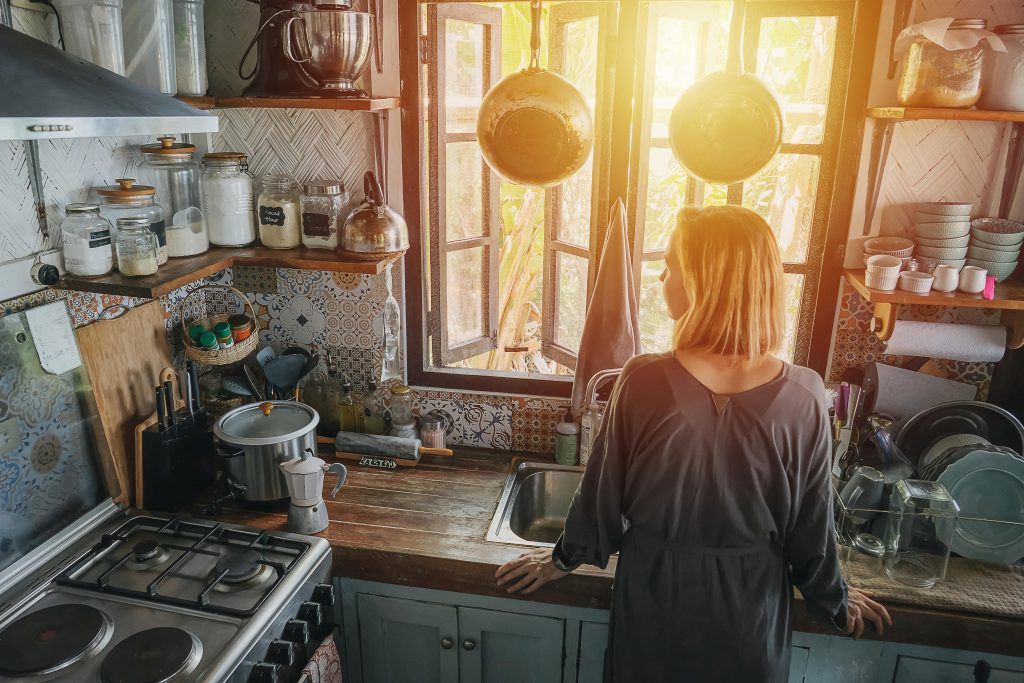 Step 5: Hallway
Knowing how to organise rooms like this is a life skill. Especially if you have kids and pets. So, if wellingtons are taking over your entrance, we sympathise. Nothing says welcome home like a calm space. If you've managed to have a good clear-out, but it still feels cramped, perhaps you have too much furniture in your hallway? Yes, that antique table looks great, but if it's too big, it won't work. There's always the option of self storage.
Step 6: Lounge
Moving on to the lounge – this is one of the most challenging spaces to sort out.  Knowing how to organise a room like this takes a lot of thought. After all, it gets a lot of use every day. Using the same simple system again, we say get ruthless and remove anything that no longer functions. Then decide on a permanent space to store items such as blankets and books. Sometimes hitting the reset button can work well.
Finally, tackle the toys. Do they still work? And, if so, do the kiddies still play with them? Once the lounge is fully de-cluttered, feel free to pop your feet up. Let's take a look at some options to keep things nice and tidy.
Step 7: Invest in the right storage to prevent clutter returning
So you've managed to tackle that mountain of clutter. Good for you. The chances are you'll want to keep it this way. But how do you stop stuff from accumulating again? Well, great storage is key. Here are a few ideas to keep your belongings in check:
Baskets, jars and containers

– to keep your bits and bats nice and tidy

Wardrobes with dividers and shelves

– to organise clothing more efficiently

Hooks and pegs for boot rooms

– everyone needs ample space for their jacket

Removable drawer inserts

– no more hunting for socks ever again!

Ladder-style bedroom shelves

– sometimes bulky units can cramp a small space

Double-duty furniture –

ottomans are a stylish way to store bedding

Rent a safe self storage unit –

find out why you should below…
De-clutter your home and mind with self storage
Thank you for reading our post – now you know how to organise your room and fast. When there's just not enough space, but you can't bear to get rid of something for good, self storage can alleviate this. At Ready Steady Store we have storage facilities across the UK from Great Yarmouth to Wokingham, Hanley and Leeds. Our Size Estimator can also help you get an idea of the right unit size, depending on how much storage you need. Talk to our team to see how it works.