Are you moving to Corby for work or for an exciting new start? You're in good company. One of the UK's fastest-growing boroughs, Corby now has a population of 72,218, following an increase of 1,440 people between mid-2018 and mid-2019.
A town in the historic county of Northamptonshire, England, Corby began life as a small village before evolving rapidly into a reasonably sized industrial town. It's also renowned for its Scottish heritage, formed from generations of incoming steelworkers, and for a period, was referred to as "Little Scotland".
In recent years, the town has undergone a large regeneration process with the opening of a main railway station, the £20m International Swimming Pool, and the £32m Corby Cube building. By 2024, the population is also expected to surge even further by nearly 17%, but just what is tempting people to move here?
If you're thinking of moving to Corby but are unsure where to begin, this handy guide explains all.
Where to live in Corby
Average house prices
The cost of living
Things to do in Corby
Travelling around Corby
Education
Employment opportunities
Moving to Corby; a relocating checklist
Why keep any items with Ready Steady Store?
Where to live in Corby
Choosing where to buy a house in Corby will depend on your needs, your budget, and any other amenities that you require. Property types can also vary depending on the location, but most are either those built in the post-World War II era or modern developments featuring detached new-builds.
Let's look at what neighbourhoods are worth looking at in and around Corby:
Weldon
Located on the outskirts of Corby, roughly two miles southeast of the town centre, Weldon is a village with a population of around 2,000 people. It's also home to an array of different property types from detached bungalows to stone-built cottages that are Grade II listed.
Overall, Weldon is a charming, historic village, but it once had a murkier side. Surprisingly, it's well-known for being a site of local punishments in medieval times. Of course, this was a long time ago, and these days Weldon provides an idyllic lifestyle for those seeking a little peace and tranquillity.
Cottingham
A destination known for its rambling hills, Cottingham village is roughly an 8-minute drive from the town centre of Corby (3.6 mi). Here, residents enjoy a family-friendly setting with plenty of walking trails to enjoy – Walk 93 actually passes by possibly the oldest inn in England.
In Cottingham, most houses are also semi-detached or terraced, and there is a mix of modern and older property types. The village also has a community-run cafe and store, which opened in September 2011 and so far, more than 180 shareholders have invested more than £11,000 in this local project.
Oakley Vale
Located in the southwest of Corby, Oakley Vale is a well-regarded residential area covering 436 acres. Since 2001, over 2000 homes have been built, and the neighbourhood is thriving. It also offers a taste of modern and country living combined.
What else does the close-knit community of Oakley Vale offer?
Local amenities such as restaurants, shops, vets and pubs
Broadband speeds at around 30mb/s
A range of activities on your doorstep
Great transport links with easy access to the A6003 and the A43
Most importantly, if you have children, it offers a family-friendly atmosphere
Rockingham
Close to the border of Leicestershire and Rutland, Rockingham is a town largely connected to the borough of Corby.
Nestled in the shadow of an 11th-century castle, Rockingham is a true chocolate-box village with stunning views of the surrounding countryside.
If you're partial to a regular leisurely hike, we would encourage you to check out Rockingham Forest Park or 'the lungs of Corby' as it's more locally known. Spanning an impressive 200 square miles, this ancient woodland was once a favourite hunting ground of William the Conqueror. It's also only a 20-minute drive from the town centre via the A43.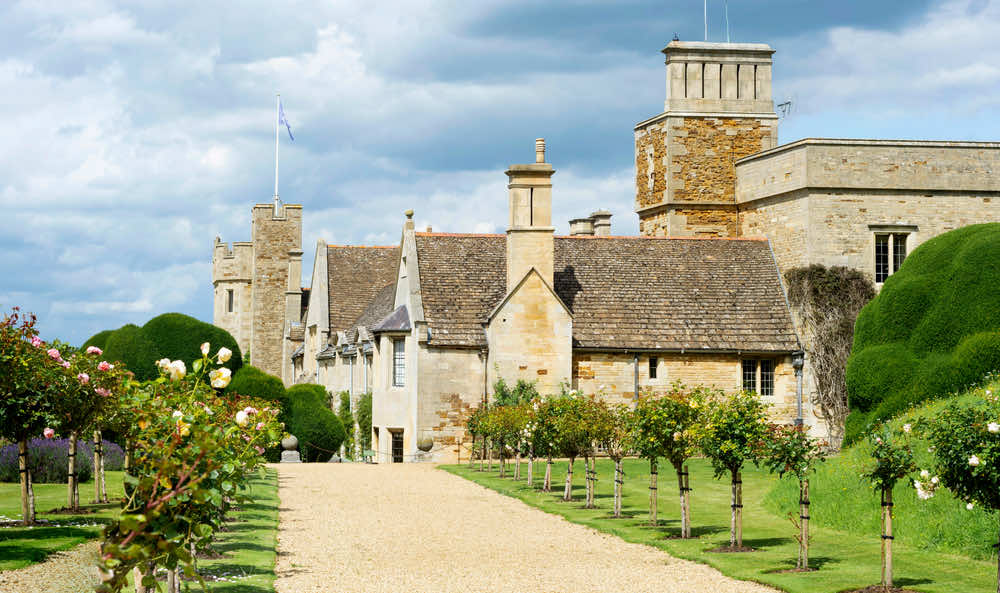 Stanion
A village located in Northamptonshire, England, Stanion is situated near Corby and is close to the A43 and A14 motorways. It's also a welcoming place that has a lot to offer newcomers – several local groups make it easy to get involved and meet new people.
Properties include a mix of old and new builds including semi-detached as well as sixties bungalows and terraced houses. In terms of amenities, Stanion also has a small convenience store, a post office, a primary school and a pub, or you can always drive into Corby for the following:
Supermarkets
High-street shopping
Savoy Cinema
Bars and restaurants
Average house prices
Overall, sold prices in Corby rose by 6% last year and have increased by 9% since the peak of the 2020 pandemic. Considering, however, that Corby is just over an hour away from London by train, houses remain reasonably priced, and last year, the average property sold for around £242,888.
According to Rightmove, you'll pay the following for a home in Corby:
Terraced house – £205,464
Semi-detached house – £229,489
Detached house – £345,568
Rent on average is as follows, according to Property Search Engine Home.co.uk:
One bedroom – £698 pcm
Two bedrooms – £792 pcm
Three bedrooms – £968 pcm
Four bedrooms – £1,338 pcm
The cost of living
Overall, the cost of living in Corby can vary, but it does come in slightly less expensive than in Northampton. For example, instead of paying £3.20 for a cappuccino, in Corby, it's less. You'll only pay £2.91 for the same frothy delight. The cost of transportation in Corby is also quite low. A monthly bus pass can cost around £37.50 or £2.30 for a one-way ticket. On the other hand, a meal for two in a restaurant comes in at around the same price (£60), but in Corby, you can get a litre of milk for just 83 pence.
Check out the cost of these other living essentials:
Basic utilities for a standard-size flat – £227.88 pcm
1 litre of petrol – £1.54
Loaf of white bread (500g) – £1.01
Bottle of mid-range wine – £7
1 litre bottle of water – 67p
Things to do in Corby
Go shopping
Overall, Corby offers a good range of options for shopping, from high street brands to local independent stores. It's also close to Market Harborough, Stamford, and Oundle, all of which have lively markets on a regular basis.
In addition, you can always find a parking spot at Phoenix Parkway, which is home to a number of big brands, including Next, The Range and M&S Food. Willow Place, meanwhile, is the main destination for shoppers with everything from Primark to H&M, little cafes and Boots.
Experience the arts
The arts are a priority in Corby, and recently, the town ran a series of festivals dedicated to growth. Grow Festival was curated to reflect Corby's rapid development as one of the fastest-growing boroughs outside of London, and themes included light, food and water.
The town is also home to Corby's iconic Cube, a municipal building and from here, The Core hosts a range of events, including theatre productions, live music and comedy shows. The centre also provides weekly workshops in theatre, dance, and creative writing, and last year, over 20,000 young people and children got involved.
What else is on in Corby?
Corby Sculpture Park
Manor House Museum, Kettering
Rooftop Arts Centre
The Alfred East Gallery, Kettering
Get outdoors
If you're a fan of the great outdoors, it awaits you in Corby – the town has several lovely beauty spots. Whether you're looking for a relaxing day out or an action-packed trip, there's something for everyone in this charming location.
Corby Boating Lake, for example, is a popular spot for fishing, boating and picnics. The site also has a playground for children and an adjacent café where you can enjoy a spot of bird-watching while you eat lunch.
Other outdoor attractions near Corby include:
East Carlton Country Park
Fermyn Woods
West Glebe Park
Fineshade Woods
Rutland (AKA the Cotswolds Without the Crowds)
Sport
The sports scene is huge in Corby, and you'll find plenty to do whether that's cycling, judo, hockey or swimming. If you like golf, Priors Hall is a course located on the outskirts of the town that has picturesque views, or, alternatively, there's a state-of-the-art tennis centre and gymnastics academy.
Likewise, there are many netball leagues you can join as well as football teams; there's even an athletics track next door to Corby Town FC. Take it from us; if you're looking at moving to Corby, it won't disappoint. Whatever your interest, you'll find something to suit.
Travelling around Corby
Overall, Corby has a relatively well-developed transport system, with several options available to residents and visitors. Whether you need to get to various other parts of the town or travel further afield here are some of the transportation methods you'll find in Corby:
Bus – with an extensive network, operated by Centrebus and Stagecoach, Corby's bus service covers most parts of the town and connects to nearby villages. With many convenient bus stops around, you'll also be able to get to and from places like Melton Mowbray. Download the map and check the services here.
Train – Corby has a railway station which provides regular services to London, Nottingham, and other nearby towns and cities. By the end of the year, there are also plans to run two trains to the capital every hour, and because Corby is the first stop, there should always be seats available – check times and book tickets here.
Taxi – taxis are always available and can be hailed on the street or booked through local taxi companies. The largest private hire service in Corby is also Star Cars, which provides transportation within and around the area.
Cycling – with several cycling routes, you can travel around Corby by bike, especially since the town is set for a huge regeneration. Last year, the council revealed the first details of the new route, predicted to cost £9m, which will take cyclists from the town centre to the train station.
Car – if you drive, you can also get around Corby by car, but if you need to travel further, the town is well-connected to major roads such as the A43 and A427.
Education
Overall, Corby offers a diverse range of educational options at all levels, from nursery schools right up to a modern campus run by Tresham College. The borough also boasts some of the best schools in the country that deliver shining results, both at the trust and school levels.
Three top-rated primary schools in the region:
Three of the best secondary schools in Corby:
Employment opportunities
Historically, Corby was a small village known for ironstone mining, but its steelworks grew rapidly during the mid-20th century. While the local economy was once dominated by steel, today it is not, and Corby has diversified into other industries, such as logistics and distribution.
In fact, have you ever heard of the brand, The White Company, a luxury lifestyle retailer? The company is set to transfer its logistics operations from their Swan Valley headquarters to Rockingham, Corby, this summer. The firm is the latest in a string of big brands to relocate to the town and is a testament to Corby's central location and able workforce.
Here are some other big names who have their bases in Corby:
BSH Home Appliances Ltd
Eddie Stobart
Joules
Tata Steel
RS Components
Moving to Corby; a relocating checklist
1. Book a removal van or firm
Moving house is hard work, there's no doubt about that, but thankfully there are a few ways that you can lighten the load. One option is to book a professional firm that can do the whole lot, from the packing to the loading and lifting. Additionally, many removal companies offer insurance against losses, providing you with added peace of mind during the move. Don't forget to ask for recommendations, double-check their ratings and also get multiple quotes.
On the other hand, renting a van and moving your belongings yourself can be more cost-effective than hiring the pros. The DIY route will also give you greater control of how your boxes are packed, which can be beneficial if you have valuable items. It is, however, important to note this option is not without its hard work – moving is draining and hiring a van isn't for everyone. Still, if you're happy to explore the idea, you'll have the satisfaction of knowing you moved to Corby without any assistance – check out our exclusive van hire offers here.
2. Declutter and pack
Decluttering is an important part of the moving process, as it allows you to get rid of items that you no longer need or use. Start early and give yourself plenty of time to decide whether to keep items or not – here are some other tips to help you clear out for a house move:
Be honest with yourself about what you need
Sorting items into categories can really help, i.e. books, toys, clothes and shoes
Donate any items you haven't used in a year
Dispose of items that are broken, damaged beyond repair, or anything that cannot be donated or sold
You can also use self storage as a space for anything else you're unsure about
When it comes to packing those boxes, get going early. Don't leave it until the last minute. Once you've had a clear-out, it should be easy to see what needs packing and in what box. It also helps to keep any essential items separate for when they're needed.
3. Set your new utilities up
The process of setting up your new gas and electricity should be straightforward – here are some simple steps to follow:
Inform your previous energy supplier of your move – they usually require a final meter reading and forwarding address for any final bills.

Find out your new energy provider – you can do this by checking with the previous occupants or landlord to see which energy supplier is currently providing gas and electricity to the property.

Choose your new tariff – if possible, you may even be able to compare energy tariffs from different providers to find the best deal for your needs.

Set up an account with your current supplier – if shopping around isn't an option right now, let your service provider know you are the new owner.

Provide meter readings – provide your supplier with new meter readings as soon as you move in to ensure you are only charged for the energy you use.

Pay the bill – set up a payment method for your energy bill, such as direct debit or online payment.
4. Change your address
Among our relocating checklist, this step is pretty crucial – some people will need updating of your new address. It's important to inform several parties, including the post office, utility companies, banks, insurance providers, the electoral roll, and any subscriptions or memberships you have.
You should also update your address with your family and friends, and if you drive, inform the DVLA as soon as you can. Unfortunately, failure to notify them can result in a big fine. Check out this handy post to ensure there's no one left in the dark:
Health
Education
Career
Personal
Financial
Government
Utilities
Vehicle
Insurance
Interests & Hobbies
5. Have you thought about organising self storage in Corby?
Worried moving to Corby will be a challenge? Self storage can alleviate the worry of finding a home for your things. This is especially if there's a gap between leaving your old home and moving into the new one or perhaps you'd like to organise your belongings in your own time.
It's common to store larger items like sofas until you have room or until you've finished re-painting a few walls here and there. Our Corby facilities also typically offer flexible rental terms, so you can rent the unit for as long as you need, allowing you to focus on settling your family into your lovely new home.
Why keep any items with Ready Steady Store?
Need to off-load a few things? Our Corby site offers numerous benefits for people who need a bit of extra space. Our storage facilities are also clean and well-kept, with on-site customer parking and 24-hour access to the widest range of thoroughly secure units.
Additionally, we're ideally positioned directly off Corby's main A-road, meaning we're easily accessible from all over Northamptonshire and the surrounding boroughs.
To find out the exact type of storage unit you'll need, our size estimator can help, or if you have any particular questions, please call us free of charge on 0800 321 3211.