Moving to a new city can be a daunting experience, but Lincoln, a picturesque city in the East Midlands of England, has a lot to offer for those seeking a change of scenery. Known for its stunning cathedral, medieval castle, and cobbled streets, Lincoln is a city steeped in history and culture.
The city also boasts a thriving student community thanks to the presence of the University of Lincoln, which attracts students from all over the country. Likewise, with house prices below the national average for England, here, you can definitely stretch your budget, and the affordable cost of living is one of the major reasons why many people are drawn to Lincoln.
In recent years, the city has also undergone significant changes, with a host of new restaurants and shops, and it offers excellent links to nearby places such as Nottingham and Sheffield. If you're thinking of moving to Lincoln, allow us to explore it further – here's what you can expect from living in this beautiful city.
Lincoln's best neighbourhoods
House prices on average
The cost of living
Places to visit and things to do
Travelling around Lincoln
Education
Employment opportunities
Moving to Lincoln; our top tips for relocating
Why store your personal belongings with Ready Steady Store?
Lincoln's best neighbourhoods
Canwick
Recently dubbed one of the UK's coolest places to live, Canwick is a small village located on the outskirts of Lincoln. Living here provides residents with access to beautiful countryside surroundings, including the nearby South Common and the beautiful Whisby Nature Park.
Despite its rural location, Canwick is well connected to Lincoln, with regular bus services and easy access to the major road networks. This means that residents can easily access the city's amenities, but if they want to stay local, the village also has several local pubs and restaurants too.
Bracebridge Heath
Located 2 miles south of Lincoln, Bracebridge Heath is an incredibly sought-after village. It also has a close-knit population of just under 6,000 with a small primary school, and residents enjoy living here for a variety of reasons:
Spacious family homes – a wide selection of 3 and 4-bedroom houses are available at Bracebridge Manor.

Picturesque views – the surrounding countryside offers plenty of opportunities for outdoor activities such as hiking, cycling, and fishing.

Amenities – Bracebridge Heath has several local shops, including a post office, pharmacy and greengrocers.

Community – the village has a local pub and community hall which hosts various events throughout the calendar year.

Great transport links – the city of Lincoln is easily accessible by car or public transport.
Waddington
A housing hot spot, Waddington is situated approximately four miles south of Lincoln on the A607 Grantham Road. The village is generally known for its local RAF base, but there is more to this town, having seen a number of new developments over the years.
The older part of the village primarily consists of limestone buildings built before brick making began, but more modern areas can be found down the steep hill towards Lincoln's centre.
Nettleham
Nettleham is a large charming village located five miles north of the City of Lincoln and is a popular choice for both families and retirees. In fact, Nettleham has won the Best Kept Village Award quite a number of times and has been unofficially coined the best place to live in Lincolnshire.
Living in Nettleham offers a tranquil lifestyle away from the city's hustle and bustle but with all the conveniences of modern living. In the last two decades, house prices have also pretty much trebled, but it isn't hard to see why. Despite its size, the village has a reputation for being a friendly, safe and community-oriented place.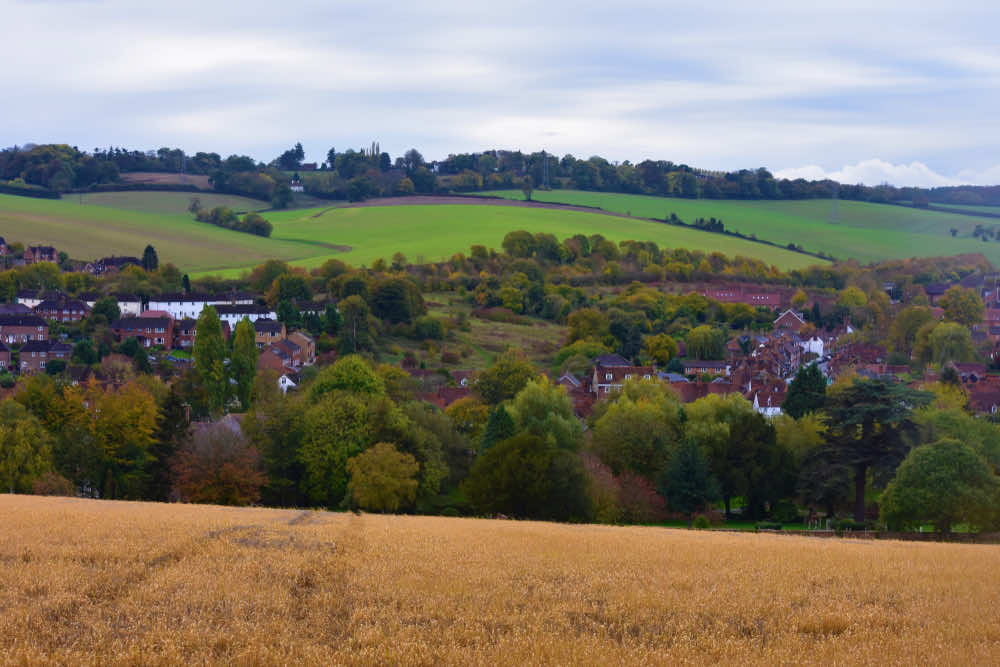 House prices on average
Over the past year, Lincoln has seen an average house price of £216,971, with the majority of sales being terraced properties for £172,115. According to Rightmove, semi-detached properties also sold for an average of £217,222, whereas detached fetched £298,451, but overall, the market is slightly cheaper when compared with the nearby city of Sheffield.
Renting in Lincoln
Rent in Lincoln is 70.5% lower than in London, making it one of the most affordable cities for tenants.
Lincoln rental property costs in 2023, according to Home.co.uk:
House – £975 pcm
Flat – £867 pcm
Room – £495 pcm
The average property rental cost by the number of bedrooms (PCM):
1 bed – £625
2 beds – £850
3 beds – £1,100
4 beds – £1,604
The cost of living
If you and your family are moving to Lincoln, then you're in for a treat. The cost of living is similar to the national average when it comes to everyday items. For example, a loaf of bread costs around £1.27, 12 eggs £2.51, and the price for a regular lettuce is only 93 pence.
According to Numbeo, Broadband is also in line with the average at £32.20 per month, and the price for one litre of petrol is £1.56. Likewise, utility bills remain at a reasonable rate (around £155 per month) for electricity, heating, cooling, water and waste collection.
Places to visit and things to do
History and heritage
If you're looking to discover the city's medieval past, start with these iconic landmarks; Lincoln Castle and its English Gothic Cathedral. Built by William the Conqueror, the castle offers panoramic views of the city and is a great place to admire the cathedral and all its intricate beauty.
Interestingly, Sir Isaac Newton, the renowned English physicist, was also born in Lincoln, where he made groundbreaking discoveries about light and gravity while studying during the plague in the late 1600s. Head to Woolsthorpe Manor near Grantham, and you'll see the apple tree that motivated his thoughts. This National Trust property also has an on-site coffee shop and bookstore.
Eat and drink
A foodie's paradise, you won't struggle to find a decent restaurant in Lincoln and some of the best places to eat are said to be on the Brayford Waterfront and up Steep Hill. Local favourites include Browns Pie Shop and The Old Bakery Restaurant, the only one in Lincoln to hold two AA Rosette awards might we add.
Lincoln also has a lively nightlife, with a great pub and bar scene and a variety of venues to suit any age group. So, regardless of whether you're looking for a more low-key affair or want to hit the nightclubs, Lincoln has an abundance of choices throughout the city.
For the family
Here are some family-oriented activities you can enjoy in Lincoln, along with information on some of the area's green spaces.
Markets and festivals
It's no secret that Lincoln has a lot going on when it comes to events, and the city regularly hosts an array of festivals and markets. For example, Lincoln Farmers Market takes place every three weeks to showcase independent grocers, whereas The Makers Market exhibits traditional and contemporary arts and crafts twice a month.
Additionally, the city's Sausage and Cider Festival is always a vibrant event where visitors can try some amazing new flavours of sausage! Then there's the Classic Car Show and Opera Evening at Doddington Hall – click here to see the fantastic programme of events and entertainment in Lincoln.
Travelling around Lincoln
If you're planning on visiting or moving to Lincoln, you might be wondering what the transport is like. Here's a brief overview of what you can expect:
Public transport – since Lincoln's unique city centre isn't well suited to cars, access to the inner city is easier by bus. Stagecoach operates Lincoln's extensive bus network and covers most of the city. There are also trains that run to and from Lincoln Central Station, which is located in the centre.

Cycling – Lincoln is a very bike-friendly city, with lots of cycling routes, designated lanes and even private bike hire. You can rent a bike for only £4 through Lincoln's HireBike scheme. Off-road cycling is also available on the Water Rail Way, which runs 33 miles along the River Witham.

Walking – getting around Lincoln on foot is also easy since the city is relatively small. There are also plenty of pedestrianised zones and walkways. You just might need a little willpower to explore Steep Hill.

Car – if you're looking to get further afield, motorists can access the A1 via the A15, which runs along the entire length of Lincolnshire. Additionally, the B1190 runs through Lincoln and meets the A46 bypass as part of the county boundary between Lincolnshire and Nottinghamshire.
Education
Lincoln is home to many excellent schools with great Ofsted reports, and the city's grammar schools are also second to none. Additionally, the region is home to four specialist education centres for those pupils requiring extra support. These include Fortuna Primary School (ages 5-11), Sincil Sports College (ages 1-16) and St Francis Community Special School (ages 2-18). According to Locrating, these are the top primary and secondary schools in Lincoln.
Top primary schools (ordered by their Key Stage 2 results):
St Faith and St Martin Church of England Junior School – Ofsted Grade 2: Good
Westgate Academy – Ofsted Grade 2: Good
The Lincoln St Peter at Gowts Church of England Primary School – Ofsted Grade 2: Good
Top secondary schools (ordered by their A-Level results):
The Priory Academy LSST– Ofsted Grade 1: Outstanding
Lincoln UTC – Ofsted Grade 2: Good
Lincoln Christ's Hospital School – Ofsted Grade 2: Good
Lincoln Universities
Known as the "student city", Lincoln is home to three universities: The University of Lincoln, Bishop Grosseteste University, and Lincoln College. The University of Lincoln is the largest of the three and is known for its focus on student experience and offers a wide range of undergraduate and postgraduate courses, including nursing, computer science, business, and engineering.
In comparison, Bishop Grosseteste University is a smaller institution, offering courses in subjects such as drama, music, and primary education. Likewise, Lincoln College offers many vocational courses that fuel all kinds of careers in areas such as hospitality, construction, hair, and beauty.
Employment opportunities
Employing more than 1,800 people, the University of Lincoln offers a diverse range of positions, including both academic and professional roles. As one of the city's biggest employers, the campus provides staff with an array of prospects. Here are some other sectors you can also find in Lincoln:
Manufacturing – Lincoln has a strong manufacturing industry, particularly in aerospace, engineering, and food production. Many of the city's larger employers include Siemens, Bifrangi, and family-owned construction firm, Lindum Group.

Retail and hospitality – the retail and hospitality sector is another major employer, with a number of restaurants, bars, supermarkets, and shopping centres within the city.

Healthcare – Lincoln also has a large healthcare sector, with several clinics, care homes and hospitals in the area. Organisations include Lincoln County Hospital, St. Barnabas Hospice, and United Lincolnshire Hospitals NHS Trust.
Moving to Lincoln? Here are some top tips for relocating
1. Get your packing boxes for FREE
When it comes to packing, cardboard boxes can be a costly expense, but there are many places where you can get them for free. Supermarkets are often happy to give them away, as are local bookshops. Additionally, social media platforms like Facebook are a great resource as people often have spare boxes lying around after moving or receiving parcels.
If you're looking for a one-stop shop for all your other packing supplies, we stock things like packing tape, tissue paper, and loose fill. Simply browse our Box Shop, click 'add to basket' and have your packing accessories shipped directly to you.
2. Double-check the details
When you're moving to a new place, it's important to double-check the details to ensure a pretty easy transition. Moving can be hectic enough; you don't need to add to your load, so grab a cuppa and check those papers pronto.
3. Verify your new council tax band
Checking your new home's council tax bill is essential when moving to avoid any nasty surprises and budget accordingly. The amount you pay will be determined by the band assigned to your property, which is typically assessed based on factors such as its size, location, and condition.
In a few exceptional cases, some people can be exempt, especially if they're a student or on a low income. Each local authority is different, however, so it's always worth checking. To find out if you're eligible for a council tax reduction, you should contact your local council or check their website for more information on exemptions and how to apply.
Click here for more information on Lincoln's council tax bands.
4. Re-direct your post
To avoid missing any important correspondence such as letters, bills, or bank statements, it's crucial to redirect your mail to your new address when moving. You can do this by filling out a redirection application in your local post office or online via Royal Mail's website.
Likewise, don't forget to notify the following of your change of address:
The DVLA
Your employer or educational institution
Bank and credit card providers
Utility companies (gas, electricity, water, internet, etc.)
Any insurance providers (including home, car, and health)
Your doctor and dentist
Mobile phone and TV providers
Subscription services
Friends and family
Any other organisations you correspond with
5. Organise self storage locally for whatever you need
Self storage can help with a move in several ways, especially if you need somewhere temporary to store bulkier items. It's also handy if you're a student in between homes for keeping items safe and secure. Unfortunately, moving dates don't always align for a variety of reasons.
If you're also keen to find a place for seasonal items, like sports equipment, self storage provides a climate-controlled environment to protect your belongings from damage. Irrespective of your postcode, and whatever you need to store, you can make use of our storage at one of two facilities in the Lincoln region:
Why store your personal belongings with Ready Steady Store?
Thank you for reading our post; we hope it has helped if you're planning to move to this lively city quite soon. If you're looking for self storage solutions in Lincoln, we're always happy to help and offer a wide range of unit sizes to suit any requirement.
We also understand that sometimes plans change, which is why we allow you to scale your unit up or down as and when needed. We also have high perimeter fencing in place, 24-hour surveillance and PIN code access – we take security very seriously at Ready Steady Store.
Discovering your nearest location is easy; simply click here, then provide some further details about your desired storage requirements. Alternatively, if you'd prefer to have a chat with our team to discuss our latest prices, feel free to call us on 0800 321 3211. Thanks again.