Are you thinking about moving to Northampton? We don't blame you. According to Yopa, this town is very up-and-coming. Located on the beautiful River Nene, Northampton is in the East Midlands region of England and offers a great mix of schools and different property types.
A commuter town, Northampton also has excellent transport links and is an attractive option for those who work in nearby cities but prefer to live in a quieter and more affordable area. Likewise, it was recently named among the best UK towns for running a successful business, and since receiving its New Town status in the late sixties, Northampton has expanded rapidly.
Whether you're relocating to start a new venture or be nearer loved ones, the UK's biggest market town is certainly thriving these days. Keep reading as we explore Northampton's intriguing past, its neighbourhoods and culture – here's the full lowdown on this colourful place.
Where to live in Northampton
Average house prices
The cost of living
Things to do in Northampton
Transport in Northampton
Education
Employment opportunities
Moving to Northampton; moving house checklist
Why keep your possessions with Ready Steady Store?
Where should you live in Northampton?
Whether you are looking for a detached-period home or a sweet bungalow, Northampton offers a good mix of properties to suit any taste. Here, you can expect to find everything from highly sought-after mill conversions to homes from the early 20th century, and stylish new-builds with high-spec finishes.
According to Martin & Co, here are some of the best places to live in Northampton:
Abington
Located west of the town centre, Abington is an affluent area with a range of housing, predominantly from the Victorian and Edwardian eras. Here, a large number of these properties line the main thoroughfares, such as Rushmere and Wellingborough Road, but you'll also find a good selection of modern developments around the neighbourhood too.
Additionally, the suburb has many independent restaurants and shops and is close to Northampton Racecourse, which has a tradition of showcasing sports and other major events. It's also home to the popular Abington Park, famed for its ornamental gardens; rumour has it the original medieval village is buried under the surface.
Kingsthorpe Village
A suburb located in the northern part of Northampton, Kingsthorpe Village is best known for its historic buildings, restaurants, pubs and various shops. The area also has several green spaces, such as Kingsthorpe Recreation Ground and Bradlaugh Fields, both of which offer many opportunities for outdoor picnics and games.
Properties also include traditional terraces, new builds and stone-built cottages, many of which are grade II listed. Overall, the combination of a vibrant community spirit and a handful of great schools make Kingsthorpe Village a pleasant place to live for families.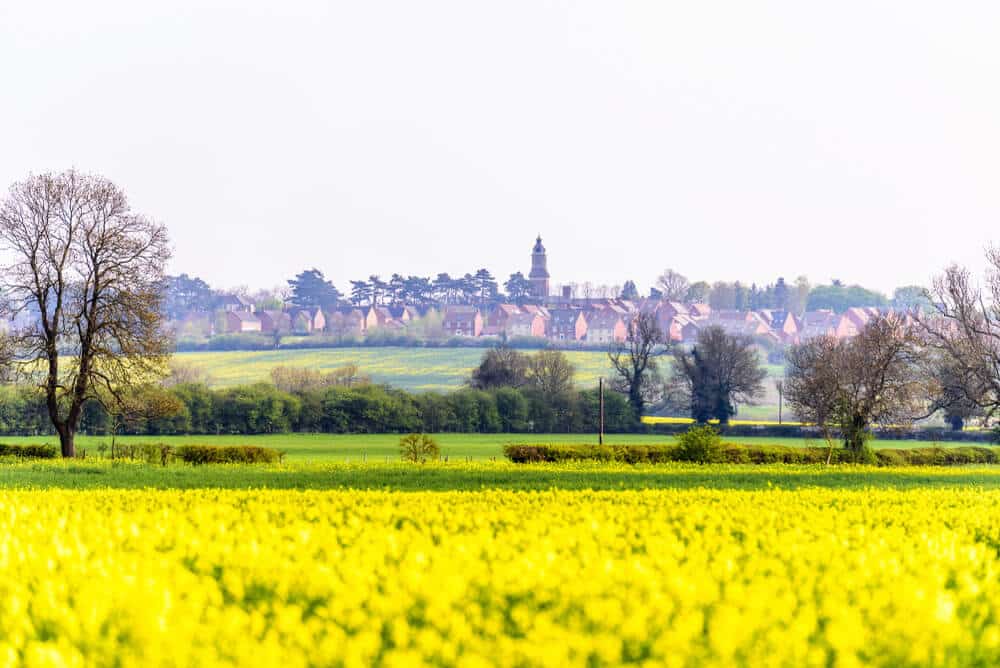 Wootton
Northampton's suburb of Wootton lies south of the M1 motorway and offers a semi-rural lifestyle within easy reach of the town centre. In terms of housing, Wootton offers a range of different property types to suit any budget from traditional stone-built cottages, to larger period homes and modern apartments.
Although the average house price is slightly higher than the Northampton average, it reflects the desirability of this high-demand area. The village itself also has a great range of local amenities, including a supermarket, pharmacy, and dental practice and several highly-regarded schools make it another popular choice for young families.
Weston Favell Village
Situated east of the town centre, Weston Favell Village offers an excellent place to call home for many reasons. Firstly, there is a wide range of houses for sale, from post-war estates to modern new builds and Victorian terraces.
The village also has a large medical facility and shopping centre plus there are several parks and green spaces to enjoy as well. With good road links to Northampton town centre, the village is also in a convenient location; by car, it can take 10 to 15 minutes, depending on the traffic.
East and West Hunsbury
East and West Hunsbury are two family-friendly suburbs located to the southwest of Northampton. Both have a mix of different property types and are popular with both renters and buyers. The average house price in both areas is also slightly lower than the Northampton average.
East and West Hunsbury are also well-connected by road, with the M1 motorway and the A45 providing easy access to other major cities and towns. Residents also have access to a wide variety of local amenities and three beautiful parks, namely Hunsbury Hill Country Park, Ladybridge Park and Wootton Brook Park.
Average house prices
Buying a home
Over the past year, sold prices in Northampton have increased by 6% compared with the previous year and 18% compared to the peak of £254,283 reached in 2020. Prices are also around £25,000 higher than the UK's national average (£251,000) but considering Northampton's excellent transport links and lovely properties for sale, it isn't at all surprising.
Last year, many of the properties sold were terraced for an average price of £236,475. In Northampton, you'll also find a variety of estate agents with properties to suit all needs, including chain and independent brokers.
The following are some average property prices according to Rightmove:
Average house – £298,787
Terraced house – £236,475
Semi-detached house – £280,276
Detached house – £453,460
*Updated on 6 February 2023
Renting in Northampton
The cost of renting a home can vary depending on various factors such as the location, size, and condition. According to the latest data from property search engine, Home.co.uk (as of March 2023), these are the average rental prices listed by the number of bedrooms:
One bedroom – £929 pcm
Two bedrooms – £1,080 pcm
Three bedrooms – £1,488 pcm
Four bedrooms – £1,333 pcm
Five bedrooms – £1,500 pcm
And the good news? According to Numbeo, these numbers are 60.5% lower than the London average. It is, however, important to note that actual prices may vary depending on the specific property itself.
The cost of living
In Northampton, you can expect to pay slightly more than the national average for everyday living, but on the plus side, at least rent is lower than if you were to live in London. A cappuccino will also set you back around £3.20, one litre of milk, £1.16, and a meal for two in a mid-range restaurant will be about £60.
Utility bills also fall in line with the national average, with the cost of running a standard-sized flat coming in at around £288.53 per calendar month. Additionally, broadband is £29.20 per month, and council tax is 3.42% up from last year – check out this council tax comparison table for all UK regions.
Things to do in Northampton
Take advantage of its nightlife and shopping centres
If you love to shop, you'll be spoilt for choice, thanks to Northampton's major shopping district. The town's market square is the oldest and largest in Britain, with a history that stretches back to 1235 and is a pedestrianised zone that leads onto Abington Street.
The town also has two shopping centres and a few retail parks, such as Rushden Lakes, Riverside and Weston Favell Shopping Centre. If you'd also like a bite-to-eat post-shop, Northampton will not disappoint – there's no shortage of excellent restaurants and eateries here.
Five of the best places to eat in Northampton according to estate & letting agents Martin & Co:
Get active
If you like to get moving, Northampton has four different leisure centres where you can swim, cycle and play squash. On the other hand, if the great outdoors is for you, it also has 170 parks, which impressively span around 1,880 acres altogether in total.
If you're looking for something a little different, then check out the Radlands Plaza skatepark – this concrete setup attracts skateboarders, bladers, and BMXers alike. Then there's Delapre Golf Course, the King's Park Tennis Centre and more. In short, you've no excuse not to get active if you move to Northampton.
Family-friendly fun
You can't beat getting away from the distractions of life and spending time with loved ones; time flies when you're having fun with the kids. Whether you choose to climb walls at Rock Up or visit West Lodge Farm Park, Northampton has many family-friendly attractions to offer.
Billing Aquadrome is a great place to go for a longer leisurely stay – this large campsite allows visitors to enjoy crazy golf, water zorbing and more. Similarly, if you don't mind driving a little further afield, Woburn Safari Park is worth a visit and is only half an hour's drive away from Northampton.
See the sights
Boasting several historic grand houses and a number of different museums, it's true when they say a lot of culture is hidden in plain sight in Northampton. Here, you can discover landmarks such as St Peter's Church and Lamport Hall and Gardens, a fine example of a Grade I Listed House.
Here are some other hidden gems to check out:
Delapré Abbey – a former monastery and English neo-classical mansion.
78 Derngate – check out the only house in England designed by 20th-century architect and Art Nouveau designer Charles Rennie Mackintosh.
The Holy Sepulchre – Northampton's oldest building and one of only four round Norman churches in England.
Guildhall – a tour is a must to view the building's Grand Hall, with its stained glass windows and impressive coffered ceilings.
Transport in Northampton
Aside from Northampton being close to the M1 to get north or south, it's only 60 miles away from London. Additionally, you can easily get around the town by bus from North Gate Bus Station and to neighbouring places like Leicester, Bedford, Peterborough, and Milton Keynes.
If you prefer to travel by train, Northampton's train station is on the West Coast Main Line's Northampton Loop. This means you'll be able to catch regular services to Birmingham, London Euston, and Crewe. One of the best features of Northampton is its convenient transportation options.
Education
Northampton has a variety of schools, both state-run and independent, and offers education at all levels, from nursery to university. The town also has over 50 primary schools, 80% of which are ranked Good by Ofsted – these are the top 5 ordered by UK school guide experts Locrating.
Five of the best primary schools in Northampton:
Likewise, Northampton's high schools are also not bad – 70% are rated Good or Outstanding. Parents and students can research and compare the below to find the best fit for their goals – these are Northampton's top 5 high schools ordered on their A-Level results.
Five top-rated secondary schools in the region:
Employment opportunities
Historically, Northampton has been home to a variety of sectors, but its main industry has always been the shoe manufacturing market. Although there are still a number of shoemakers left, some of the main industries now include brewing, manufacturing, information technology, and engineering.
As mentioned, it's also no secret that Northampton is among the top ten best places in the country to start a business, with a number of well-established and major leading companies having their head offices here. With an employment rate of 77.5%, the most common types of careers are in finance, retail and customer service, health care, engineering and manufacturing, construction, and catering and hospitality. Logistics is also a prominent sector thanks to the proximity of the M1/M6/M40.
Here are some of the biggest private employers you can find in Northampton:
Weetabix
Travis Perkins
RS Components
iPSL
Nationwide Building Society
Barclaycard
In fact, alone, Nationwide and Barclaycard provide over 5,000 jobs within credit, insurance and banking.
Moving to Northampton; moving house checklist
1. Confirm your moving date
Despite it sounding simple, double-checking your dates will ensure you don't overlook anything big. The last thing you need is the moving van turning up three or four days in advance, and similarly, you'll need to check exactly when you can move into the new property.
Another thing to think about is taking time off, or at least pre-warning your boss to let them know about your moving plans. Try not to book anything until it's official, but at least if they know in advance, they won't be caught off-guard when you need to take some last-minute leave.
2. Declutter
Although decluttering your belongings may take you some time, ultimately, it can be rewarding. Not only can it make the process feel more straightforward, but it'll also enable you to start afresh in your home. To declutter effectively, however, it's important to take a systematic approach, starting with one room or area at a time.
As you go through your possessions, consider whether you have used or worn them recently, whether they hold sentimental value, and whether they fit your new home's style and layout. Items that no longer serve a purpose can be donated, sold, or thrown away, freeing up space and simplifying your move.
Check out our previous article; how to organise a room with too much stuff (and fast)
3. Start packing
Knowing how to properly pack for a move is all about planning – follow these tips to feel organised now:
Start packing as early as possible – this will help you to avoid last-minute rush and stress.
Pack items from one room at a time – and don't forget to label boxes clearly.
Use high-quality packing materials – like our sturdy boxes, packing tape, and loose fill.
Keep small boxes for those heavier items – things like books or kitchen appliances can overload larger boxes.
Use wardrobe boxes for hanging clothes – we promise it'll make unpacking them a breeze.
Pack a box of essentials you will need immediately – these are things such as toiletries, a change of clothes, and important documents.
Consider hiring professional packers – especially if you're short on time or need help with any fragile items.
4. Update your details
When moving, it's important to update your address in a number of places to protect your security and make the transition easier. This way, you also won't miss any important information delivered to the wrong house, and you can continue to access services and benefits without any disruption.
Here's who you should notify of your change of address:
Your employer
Your bank
Inland Revenue & Electoral Roll
The DVLA
The local council (for council tax purposes)
GP & dentist (or you may need to sign up to a new practice if you're moving far)
All utility companies
Phone and internet providers
TV Licensing
Any insurance providers (including house, car, pets and travel)
5. Have you thought about self storage in Northampton?
Saving you time, money and angst, self storage is the difference between a successful and stressful move. Whether you're downsizing and need somewhere to store a few things or if there's a gap between dates, renting a unit can take the pressure off.
With sizes ranging from 9 sq ft lockers to 200 sq ft units, our team are here to help you find the right solution to meet your moving needs. A unit will also ensure any precious items are safe so you can focus on unpacking the rest – check out our storage unit packing tips.
Why keep your possessions with Ready Steady Store?
No matter where you live in Northampton, at Ready Steady Store, our team are here to make your storage experience as convenient as possible. Located in Queens Park, we're just five minutes from the centre of town and centrally placed for all of Northamptonshire and its surrounding areas.
We also offer many flexible storage options with no long-term commitment needed, and our facility is protected with sophisticated alarm and CCTV monitoring systems. Additionally, we've received Feefo's Platinum Trusted Service Award for the past two years running, something as a brand we're proud to shout about.
Got a question about self storage in Northampton? Visit your local store or contact Reception on 01604 212804.