Moving House Checklist
So you've found 'the one', your offer has been accepted, you've sorted out the contracts and now it's time for the all-important move. But how do you get started? There's no doubt that moving houses can be an exciting time for everyone involved, but there's also plenty to get stuck into before the big day arrives.
Are you struggling to get organised? Worried about forgetting crucial steps in the moving process? Not to worry – we've got the ultimate free moving checklists to help you breeze through the big day, also available to download as an interactive PDF.
Moving out checklist
6+ weeks before moving
1. Declutter
You need to declutter well before moving day – whether you're upsizing or downsizing. You can even start decluttering while you're still house hunting, giving you enough time to sell any valuable items.
We all accumulate an excess of 'stuff', especially if we stay in the same house for a while. But when you start to think about moving, you begin to appreciate how much stuff you really have, and the thought of finding room for it all becomes a little daunting.
Keep in mind that removal companies charge by time and the amount of belongings you have. Decluttering in advance will make everything easier on the day and save you money.
2. Take an inventory
The best way to make sure that nothing is forgotten in the big move is to have a list of everything you own. Go room-by-room to make things easier and take breaks in between. You might even want to take photos of any items that are expensive or will need to be disassembled during the move.
3. Decide if you need to put things in storage
There are many reasons that people choose to use self-storage facilities during a move.
There might be items in your inventory that you're not going to need immediately before or after the move and will just be taking up unnecessary space in your home and the moving van in the meantime. You might also be redecorating your new home or property and need to have as much furniture out of the way as possible.
You might also just want things to run more smoothly and not feel overwhelmed with the amount of stuff laying about in your lovely new home when you first move in.
Whatever your reason, Ready Steady Store offers flexible, secure storage to save you time, stress and money.
4. Book a moving company
Moving companies are busy. People move house every single day, and most of them need a little help. Ideally, you'll need to start contacting removal companies around two months in advance to get a quote and have enough time to plan. This allows you to find a deal that fits within your budget and fulfils your needs. Plus, you won't have to worry about them being fully booked on your chosen date.
We'd suggest making a list of local companies and ringing around to get some quotes before you settle on one. Here's the information you'll need to provide them with:
Date of the move: You'll need to notify them of when you'll be moving along with your preferred moving times. We'd always suggest picking an early morning time slot for your move as it'll give you more time during the day to get everything sorted.
The addresses: Your removal company will need to know the distance between the two addresses in order to give you an accurate estimate on cost.
An estimation of how much needs to be moved: This is why it's important to get your packing out of the way early on as your removal company will need a general estimate of the number of boxes you need transporting along with the amount of furniture you have.
What needs to be moved: While most removal companies will happily move all of your furniture and general boxes, it's important to highlight any fragile or easily damaged items along with any expensive equipment as some companies tend to charge more for these.
Any other services you're interested in: Some removal companies offer additional extras such as assistance unloading boxes or furniture assembly to help your move go more smoothly.
If you'd rather do it yourself, don't have much to move or would prefer to put some of your belongings straight into storage, it might be cheaper to rent a van or get some friends or family to help instead of splashing out on expensive moving costs. Here at Ready Steady Store, we can put you in touch with exclusive deals on van hire from Enterprise to help you do so with ease.
5. Check your contents insurance
Moving can be a hazardous process. You want to make sure that if anything happens to any of your belongings en route to your new home, that you're covered.
If you have an existing contents insurance policy, it may include cover for when you're moving home. Removal companies should also have liability insurance in place – make sure to ask them this when you book!
However, many contents insurance policies don't include coverage for DIY removals. If you're renting a van or roping in friends and family to help you, you may need to take out additional coverage.
6. Schedule repairs and home improvements
Everyone wants a nice, habitable home to move into – including both you and the people moving into your current property. But works take a little while to complete.
If there's any major home improvements that need completing before you move – on either your current or your new home – you need to make sure that these are scheduled well in advance.
4-6 weeks before moving
7. Book annual leave
Imagine: You're all geared up to move, everything has been organised… and then your boss declines your annual leave request because your team is set to be understaffed. It is absolutely crucial to have the time and energy to dedicate to moving house, so don't leave it until the last minute to book time off.
8. Stock up on packing materials
Let the box collection begin!
When it's time to pack up your home, you ideally want to just get down to business. The last thing you want is to be running back and forth from the store to get more packing tape, more boxes, more tissue paper… all because you didn't get enough in the first place.
There are plenty of places you can get cardboard boxes from, including from our very own box shop! We also sell packing materials such as bubble wrap, furniture covers, dust sheets, marker pens and more.
2-4 weeks before moving
As tempting as it can be to leave everything until the last minute, there's no doubt that you'll regret it when you have 24 hours and your house is a mess of boxes, belongings and packing materials.
You want to start packing as early as possible. This can be difficult when many of the items in your house are in constant use but be strict with yourself – anything that can go away for a few weeks should go away.
It's also crucial to organise and label boxes to making unpacking as straightforward as it can be. Keep boxes that contain items for the same room – such as the kitchen – together and try to pack components (such as disassembled furniture or cables for electronic devices) together so you don't have to rummage around trying to figure out which parts belong to which items
10. Move non-essential items into storage
This is a great time to get those non-essentials out of the way and make space for the mess of packing materials and boxes that are going to be taking over your house.
If you're storing furniture – particularly leather or wooden furniture – it's essential that it is cleaned, wrapped and packed correctly to avoid being damaged in storage. At minimum, you should:
Deep clean furniture at least 24 hours before it's due to be moved, allowing it enough time to dry completely
Disassemble as much as possible, and place parts in labelled plastic bags that are attached to the furniture they came from
Lightly wrap furniture in moving blankets and bed sheets before being covered in bubble wrap or plastic
Pack your storage unit to minimise moisture. Lay a plastic tarp or sheet on the floor, leaving space for air circulation behind and to the sides of furniture and place items on elevated platforms.
GUIDE TO PACKING FURNITURE FOR STORAGE
1-2 weeks before moving
11. Make small repairs
Hopefully, any large repairs should be well underway and nearing completion at this point. However, there may be smaller DIY repairs that also need doing, such as filling in holes where nails have been or repainting areas where paint has worn or been scratched. You don't want to leave these to the last minute, as things will be pretty hectic the week before you move.
12. Set aside essentials
You are not going to manage to unpack everything on the day you move, or even the day after that. Chances are, you'll be too tired to even look at a cardboard box after moving out of your current home and will just want to settle down and start fresh in the morning.
With that in mind, there are certain items you need to have at your disposal in those first few days. Make sure you have items you need for the first few days in a bag or box that's easily accessible.
1 week before moving
13. Do laundry
There are two main reasons you'll be grateful to yourself for doing laundry ahead of your move:
Laundry baskets – especially if you have a family – are cumbersome and difficult to pack
You won't have to do it straight after moving in, on top of everything else you'll have to do.
Ideally, the night before you unplug the appliances, you can squeeze in one mega-load of laundry and make a bit of a night of it – get some help ironing and folding it all so it's ready to move on the day.
14. Throw away food
The last week before you move isn't the most glamorous affair, but it needs to be done. You don't want to be cooking or trying to eat all the perishables in your fridge-freezer or worrying about the washing up.
You need to start watching what groceries you buy and, a few days before the move, don't buy a lot of perishables. You can always do a big shop when you move, and you'll have some essential snacks packed in your first survival kit anyway.
15. Defrost fridge-freezer
You need to defrost your fridge freezer around 24 hours before you move. Start by placing towels on the floor to soak up the water, then unplug your fridge freezer at the wall. While it's defrosting, you can also clean shelves and drawers with hot water and baking soda to prevent any bacteria from growing.
The main reason to defrost your freezer is that if you don't melt the ice at home, it'll melt in the moving van. This risks not only making a mess, but potentially causing water damage to your belongings.
16. Deep clean
At this point, most of your belongings should be packed away. The best way to spend the day before your move is to deep clean your property. This is especially important if you're renting, as it will help protect your deposit and minimise the likelihood of your landlord having complaints about the condition the house was left in.
Moving day
Everyone's moving day will be slightly different, depending on whether you're moving with the help of friends and family, or you've hired a removal service. If it's the former, you might not have time to complete every item on this list, but we'd recommend doing as much as possible.
17. Clean property
While the moving van is being packed up, you might want to get the hoover out and do one last sweep of your property, as well as cleaning any areas that have been used on the day, such as the toilet and sinks.
18. Check house is empty
Make sure that nothing is left behind. Go through every room and check drawers, cupboards, wardrobes and underneath any bed frames that are being left behind. Depending on where you're moving to, you might not be able to come back for them, or the new tenant may throw items out.
19. Take meter readings
It's vital to remember to take a meter reading on the day you move out. If you forget, your energy provider will rely on an estimate, which may not be accurate and may result in you being overcharged.
20. Take photos and/or video of property's condition
It's unfortunately quite common for renters to become embroiled in conflicts with their landlord over the condition the property was left in, resulting in delays in getting the deposit back and deductions from the final amount returned to you. To smooth this process out, it's a good idea to have photo or video evidence of the condition of the property on the day you moved out.
21. Return your keys
This is the easy part! Many estate agents will allow you to simply leave the keys in the house, or you may need to return them to an office.
Things to consider
Other Outgoings
While this will depend on specific interests and hobbies, we all invest in This will vary from person to person as we all invest in different things. For example, if you pay for subscriptions or extra television services, you should update your details online as soon as possible. The main things to include are:
Landline phone

Mobile phone

Internet

Cable television

Streaming services

Gym membership

Subscription boxes

Magazine or newspaper subscriptions
Insurance providers
Always check what items are covered under your insurance policy while you move. Your belongings might be covered during transit, but if not, you'll have to get additional moving insurance in case anything goes wrong. When it comes to your own insurance, remember to contact:
Car

Breakdown provider

Home

Health and dental

Phone

Pet

Life
Government Services
HM Revenue and Customs

DVLA (leave this until after you've moved in if you're hiring a vehicle as you'll need your licence)

TV Licensing

Electoral roll

Department for Work and Pensions
Banks and Lenders
You don't want your bank statements going elsewhere, as this puts you at risk of fraud. Make sure you update your details for:
Credit card providers

Any bank you have a card and account with, including savings accounts

Mortgage provider

Work and education

Workplace

If you have children, their school will need to be notified

Any educational facility you currently attend, such as university or college

Your alumni network if you're a graduate
Do I need a redirection service?
Changing all of your details at once can be overwhelming, especially when added to the existing pressures of moving house. If you'd prefer to put it off until you're a bit more settled, you can do so using Royal Mail's redirection service. Anything addressed under your name will get sent to your new home regardless of the fact it has the old address on it, giving you more time to update all of your details. While you'll still need to prioritise updating your details with your service and utility providers, using a redirection service can give you more time to do so.
Moving in checklist
4-8 weeks before
1. Schedule home improvements
If there are any major works that need doing to your new home before you move in, don't leave it until the last minute to schedule these. You'll need to ensure the tradesmen are available and that there's sufficient time to complete the improvements before moving day.
Moving day
2. Pick up keys
The most exciting part about moving into a new place is picking up the keys from your estate agent or landlord. All that hard work you put into finding your dream home and moving out of your old one is finally real!
3. RENTERS: Take photos and/or video of the property's condition
Before you move any furniture or boxes in, it's a good idea to do a walkthrough of your entire property and inspect it for damage. Not recording this while the house is empty could result in you being blamed for the damage and having deductions made from your deposit if you move back out.
4. Unpack essentials
Start by getting your first day survival kit unpacked – you may need some of these essentials during the moving process and it's good to have them handy.
5. Sort boxes by room
Whether you start unpacking on moving day or the day after, it's a good idea to get organised first. Putting all of your boxes in the right rooms will clear away some of the clutter as you get settled in and make unpacking a lot less confusing.
6. Locate electric and safety devices
Before you even start unpacking – especially if you're planning on staying overnight before you unpack – you should locate and test your:
Gas and electricity meters
Circuit breakers
Shut-off valves
HVAC system
Smoke alarms
Familiarising yourself with these early on will put you in a better position to troubleshoot them in the unlikely event that anything goes wrong on your first night.
7. Take meter readings
Finally, remember to read your meters on the day you move in and give these to the property's current supplier. If your property has a prepayment meter, take off any debt so you're not charged for this. This will help ensure your first energy bill is accurate.
First week
8. Complete home improvements
Time to make your home your own. If you're planning on repainting, putting up shelves, changing out any of the major appliances… it's a good idea to do this before your furniture is in place, purely to save space.
9. Unpack
Unpacking is easily the biggest task on this list, and the most daunting. You can beat the unpacking overwhelm with a bit of organisation. Start with the rooms that are going to be in use first – the kitchen and bathroom – before unpacking the bedrooms and living rooms. Then, any less-used spaces, such as home offices or gardens, can be saved for last.
10. Change the locks
You want to do this as early on as possible, for security reasons. While it's extremely unlikely that anyone has kept a key with malicious intent – you can't know that for sure. The previous homeowner or key may have, for example, copied a key for friends, family members or ex-partners and forgotten to have it returned. This exposes you to a security risk.
If you're renting, obviously you should ask your landlord beforehand.
11. Set up home security
Next, you want to sure up the security of your home to your liking to prevent the risks of burglary. There are many ways you can do this including:
Securing your garage with a smart lock
Installing burglar alarms
Setting up a doorbell camera
Adding security cameras to the outside of your home
Getting a in-home safe for your valuables

12. Set up your utilities
Utilities that will need setting up in your first week include:
Gas
Electricity
Water
Internet
We'd recommend doing a bit of research into providers and deals before moving, because some services, such as internet, will take a few weeks to set up.
Second week
13. Get items out of storage
Once you're all moved in, it's time to revisit those items you put in storage! This doesn't have to be done in the second week if you're too tired and just want to enjoy your property for a while. The best storage providers have flexible contracts and allow you to keep your items there for as long as you need.

So there you have it, our moving house checklist – ideal for helping you organise your move and stay on track during what is sure to be a stressful time.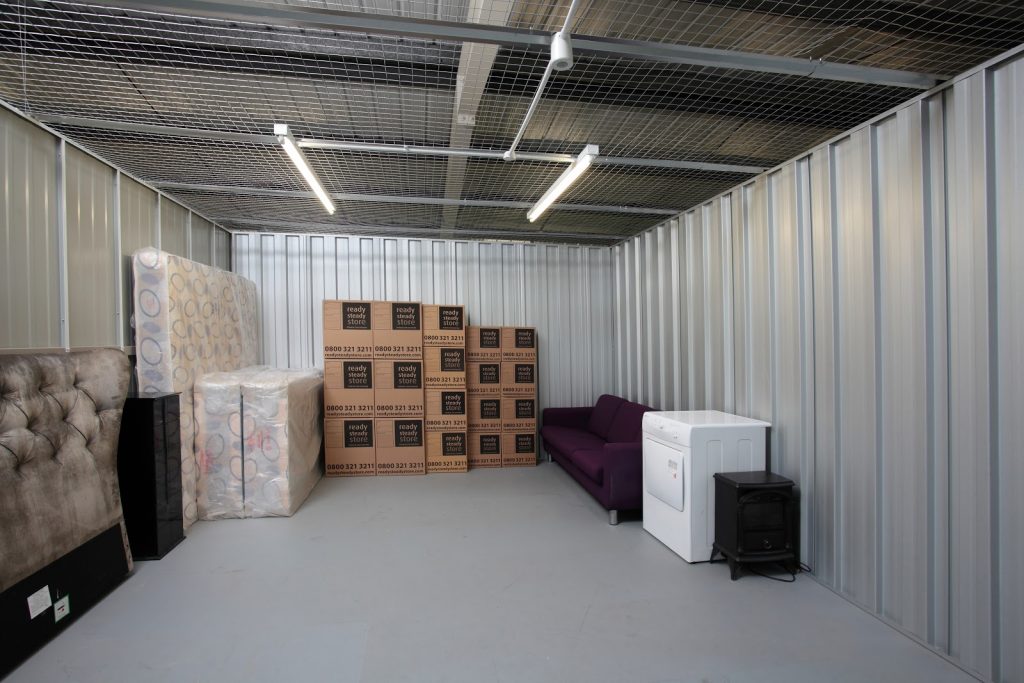 Moving a full house is no easy task, especially if you have to do everything in one day. But, if you'd like to have a bit of space while you sort out your new place, that's where self storage comes in. Whether you're storing items for a few days or are looking for a longer agreement while you decorate and revamp your new home, there are so many benefits to using a storage unit when moving house:
Reduces stress and helps to make the moving process easier

Allows you more time to plan and decorate your house without damaging any of your belongings or furniture

Offers a Plan B if anything does go wrong, allowing you to keep your items safe and secure
A safe and convenient option when moving house, self storage units provide a clean and secure space to store your belongings. From Leeds to Bournemouth, at Ready Steady Store we've got stores located across the UK, so no matter where you're moving from or to we can help. Whether you're decluttering or decorating, storage units help to keep your belongings safe and secure. At Ready Steady Store, we have storage facilities across the UK and offer security and peace of mind for all of our customers with 24-hour CCTV at all of our stores, online reservations, easy access to help make your storage experience as convenient and stress-free as possible.
Want to make the most of your space? Take a look at our blog on how to pack a self storage unit.