So you've found 'the one', your offer has been accepted, you've sorted out the contracts and now it's time for the all-important move. But how do you get started?
There's no doubt that moving house is an exciting time for everyone involved, but there's also plenty to get stuck into before the big day arrives. And, with so much to do in such a short amount of time, it's easy to feel overwhelmed and uncertain about where to begin. But, there's no need to worry. 
From what you need to do to who you need to notify, we've made moving easy with our moving house checklist:
When you should start packing

Organising a removals company

Who to notify about your change of address

Using self storage for extra space or moving emergencies
Read on for our top tips.
So, when should you start packing?
The first item on your moving house checklist? Packing. As tempting as it can be to leave everything until the last minute, there's no doubt that you'll regret it when you have 24 hours and your house is a mess of boxes, belongings and packing materials. Getting your packing out of the way as early as possible will not only help you to feel more in control of your move but will also help with planning exactly what you need.
It'll also allow you to organise your removals company and determine how much space you'll need as you'll know how many boxes you have along with helping you to identify anything that might be missing or need replacing for your new home. 
Always begin around a month before your move by packing your non-essentials  – those items you need the least – and then pack larger pieces throughout the month. Here's how to pack a house for moving:
A master packing list is the key to keeping track of all your belongings and staying on top of your to-do-list

Create some extra space for your new home by having a clear-out and decluttering anything you don't need or that isn't worth keeping

Make sure you know exactly what packing materials you need before you get going 

Clearly label your

boxes

with their contents to avoid having to rummage through them when trying to find something – this will make unpacking so much easier

Utilise self storage for additional space 

Keep your valuables and any important documents close by

Prepare for your first night in your new home with a bag full of essentials to make you more comfortable
Organising a removals company
With so much to sort out, it's no surprise that most people will need a helping hand when it comes to moving house, which is why you're likely to need a professional removal company to help you relocate your belongings. Ideally, you'll need to start contacting removal companies around two months in advance to get a quote and have enough time to plan. This allows you to find a deal that fits within your budget and fulfils your needs. Plus you won't have to worry about them being fully booked on your chosen date.
We'd suggest making a list of local companies and ringing around to get some quotes before you settle on one. Here's the information you'll need to provide them with:
Date of the move:

you'll need to notify them of when you'll be moving along with your preferred moving times. We'd always suggest picking an early morning time slot for your move as it'll give you more time during the day to get everything sorted.

The addresses:

your removal company will need to know the distance between the two addresses in order to give you an accurate estimate on cost.

An estimation of how much needs to be moved:

this is why it's important to get your pa king out of the way early on as your removals company will need a general estimate of the number of boxes you need transporting along with the amount of furniture you have.

What needs to be moved:

while most removal companies will happily move all of your furniture and general boxes, it's important to highlight any fragile or easily damaged items along with any expensive equipment as some businesses will charge more for these.

Any other services you're interested in:

some removal companies will offer additional extras such as assistance unloading boxes or furniture assembly to help your move go more smoothly.
If you'd rather do it yourself, don't have much to move or would prefer to put some of your belongings straight into storage, it might be cheaper to rent a van or get some friends or family to help instead of splashing out on expensive moving costs. Here at Ready Steady Store, we can put you in touch with a van and man service or exclusive deals on van hire from Enterprise to help you do so with ease.
Who should I contact when moving house?
While you'll no doubt be super busy in the lead-up to your house move, an important aspect of your moving house checklist is that you take the time to notify the right people of your new address to avoid missing out on any important information or paying for something you no longer have access to. While some of the below can be updated online in a matter of minutes, others may require a phone call or proof of address.
Utility suppliers
You'll usually need to provide your new address and move in-date, as well as meter readings from both homes. You'll need to contact:
Water supplier

Gas provider

Electricity provider
Other outgoings
While this will depend on specific interests and hobbies, we all invest in  This will vary from person to person as we all invest in different things. For example, if you pay for subscriptions or extra television services, you should update your details online as soon as possible. The main things to include are: 
Landline phone

Mobile phone

Internet

Cable television

Streaming services

Gym membership

Subscription boxes

Magazine or newspaper subscriptions
Insurance providers
Always check what items are covered under your insurance policy while you move. Your belongings might be covered during transit, but if not, you'll have to get additional moving insurance in case anything goes wrong. When it comes to your own insurance, remember to contact:
Car

Breakdown provider

Home

Health and dental

Phone

Pet

Life
Government services
HM Revenue and Customs

DVLA (leave this until after you've moved in if you're hiring a vehicle as you'll need your licence)

TV Licensing

Electoral roll

Department for Work and Pensions
Banks and lenders
You don't want your bank statements going elsewhere, as this puts you at risk of fraud. Make sure you update your details for:
Credit card providers

Any bank you have a card and account with, including savings accounts

Mortgage provider

Work and education

Workplace

If you have children, their school will need to be notified

Any educational facility you currently attend, such as university or college

Your alumni network if you're a graduate
Other service providers
Avoid and awkward mishaps by getting in touch with anyone you employ to help around the house and garden such as:
Window cleaners

Gardeners

Cleaning services

Oil or firewood deliveries
Health
If you're simply moving down the road, you might not need to re-register for health services, but you will need to update your details. However, if you're moving further afield, you'll need to find new healthcare providers, and register for them with your new address. This includes:
Doctors

Opticians

Nutritionists

Dentists

Any other specialist service you require
Do I need to use a redirection service?
Changing all of your details at once can be overwhelming, especially when added to the existing pressures of moving house. If you'd prefer to put it off until you're a bit more settled, you can do so using Royal Mail's redirection service. Anything addressed under your name will get sent to your new home regardless of the fact it has the old address on it, giving you more time to update all of your details. While you'll still need to prioritise updating your details with your service and utility providers, using a redirection service can give you more time to do so.
What about storage?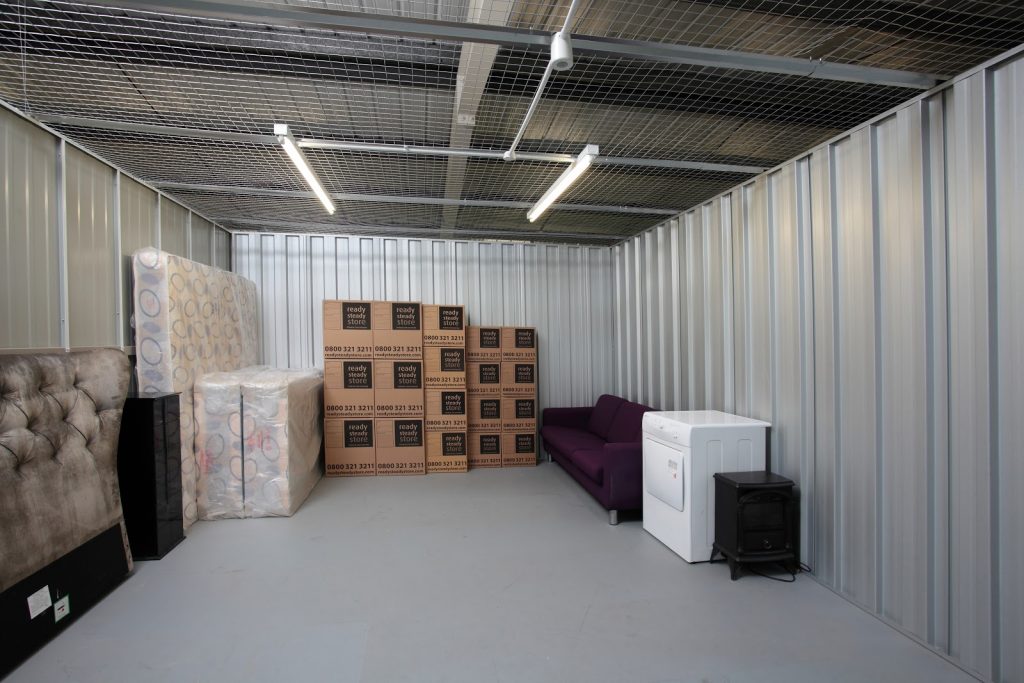 Moving a full house is no easy task, especially if you have to do everything in one day. But, if you'd like to have a bit of space while you sort out your new place, that's where self storage comes in. Whether you're storing items for a few days or are looking for a longer agreement while you decorate and revamp your new home, there are so many benefits to using a storage unit when moving house:
Reduces stress and helps to make the moving process easier

Allows you more time to plan and decorate your house without damaging any of your belongings or furniture

Offers a Plan B if anything does go wrong, allowing you to keep your items safe and secure
A safe and convenient option when moving house, self storage units provide a clean and secure space to store your belongings. From Leeds to Bournemouth, at Ready Steady Store we've got stores located across the UK, so no matter where you're moving from or to we can help. Want to make the most of your space? Take a look at our blog now on how to pack a self storage unit.
Getting ready to move
Something that is often forgotten when it comes to a moving house checklist is the logistics for your official moving day. Here's what you'll need to consider:
Double-check the final details with your removals company including addresses, timing and parking instructions

Check the contracts for your new house, including when you can collect your keys and any logistics you'll need to know

If you have young children or pets, it's a good idea to arrange care for them for your moving day to keep them safe and out of the way

Organise and book any additional services you require, such as house cleaning, furniture dismantling or plumbers 

Dispose of any dangerous or flammable materials along with any leftover rubbish 

Don't forget to take photos of your utility meter readings for water, electricity and gas before you leave
Prepare your home for the next occupants
Although it's not a requirement of selling your home, it's a nice added touch to be conscious of the new homeowners and what you can do to help their move go more smoothly. Here's how you can help:
Give the house a deep clean

Make sure you take everything with you, including any waste or recycling from your packing

Leave any manuals that came with installed appliances

Label each key, or even leave them in their m watching locks

Create a small homeowners manual, including where the mains and metres are along with any house quirks or 

Leave light bulbs behind so that the new owners have one less thing to worry about on their first night in their new home

Moving house checklist, a roundup: 
Start packing at least a month in advance

Organise a removals company to help you relocate

Don't forget to notify people about your change of address including utility providers, banks, insurance companies and government services

Utilise self storage for extra space or for moving emergencies

Double-check all the details on your moving house checklist before you lock up for the final time
So there you have it, our moving house checklist – ideal for helping you organise your move and stay on track during what is sure to be a stressful time. 
Whether you're decluttering or decorating, storage units help to keep your belongings safe and secure. At Ready Steady Store, we have storage facilities across the UK and offer security and peace of mind for all of our customers with 24-hour CCTV at all of our stores and have introduced social distancing measures and contact-free move-ins to help you use our stores safely. Find out more about how we're staying safe during the Coronavirus pandemic now.