Moving house can be very stressful; there are so many things to think about, including how to transport all of your belongings from A to B. In most cases, you need to hire a moving van, unless you have your own, but knowing what size you need can be tricky.
Moving van rental companies often provide sizing in weight and cubic metres – not something many are overfamiliar with day-to-day, so it can be hard to estimate what that translates to when staring at your sofa or table.
To help lighten the load, our moving house van guide will help clarify the different types of moving vans that are available and the type of items they would be suitable for transporting so you can get a good idea of what you will need for your move.
Why should you hire a removal van?
It's essential to hire a removal van when moving house/flat or generally transporting large, heavy items as these items won't fit in a regular car.
Lifting heavy or bulky items must be done with care to prevent serious injury. A removal van service will not only have the correct equipment but have the experience too. They will do most of the work for you so the whole move will be much easier for you and there is less to worry about.
Hiring a moving van is right for you if you are moving:
from a flat or house that has 1+ bedrooms
furniture that is heavy or bulky
complex furniture that requires dismantling
Items that are fragile or specialist
Medium Wheels Base (MWB) Van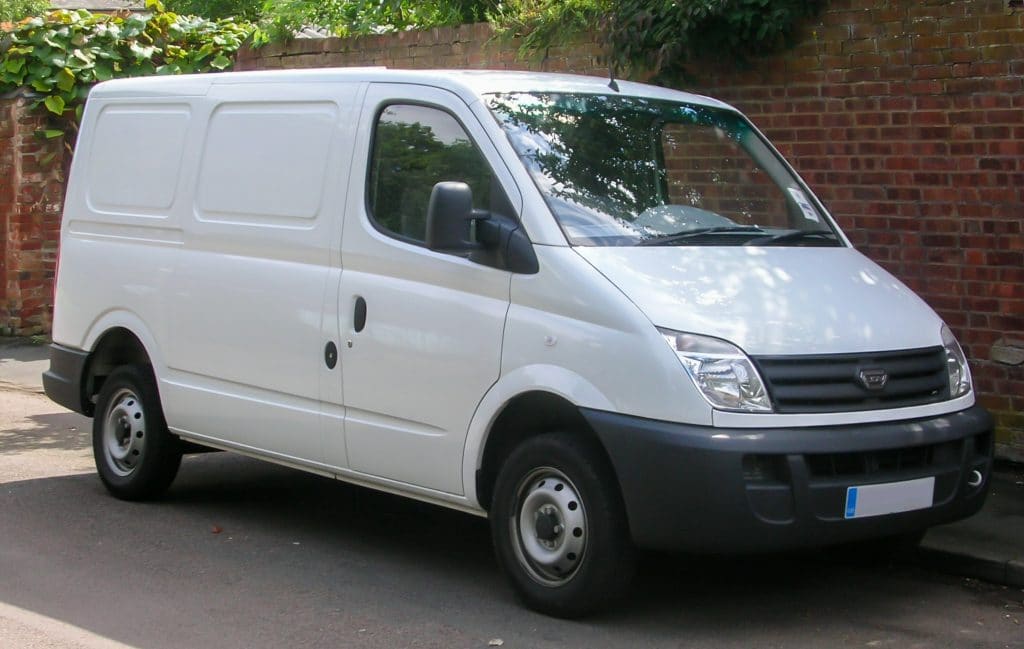 This is the smallest van size available for removal vans, so not ideal for moving everything from a family home but useful for smaller items. They have high roofs and an easy loading platform so they are quite popular hires because they are easy to use and often cheaper.
A MWB van can fit around 30-40 boxes in or one large item such as a bed, fridge freezer or sofa. This can be good for moving less essential items ahead or for getting rid of a large unwanted furnishing.
The average loading capacity of a MWB van is 230-380 cubic feet. For size reference, a MWB is about the size of a garden shed so would be a good size for moving out of a studio or one-bedroom flat.
Quick facts
30-40 boxes in or one large item
Size of a garden shed
Studio or one-bedroom flat
Equivalent size of a garden shed
Long Wheels Base (LWB) Transit Van and Sprinter Van
Next up on our moving house van guide is the LWB. As the next size up from a MWB, the LWB can fit multiple items of furniture in, white goods and up to 20-30 boxes in addition to these.
The average loading capacity of a LWB van is 380-530 cubic feet. This is around the size of a garage for size reference and so a LWB van would be ideal for moving a one or two-bedroom flat.
Quick facts
50-70 boxes
Equivalent size of a garage
One/Two bedroom flat
3.5 Tonne Luton Van
This is another popular choice for moving homes, particularly because it has the additional feature of a tail lift which makes them much easier to use for larger items of furniture. With a volume of 600 cubic feet, it's also the largest available size you can hire and drive yourself with just a standard UK driving licence.
Although they don't necessarily hold much more than an LWB, the dimensions of a Luton van are narrow and good for moving within cities as they can go round tight corners. The shape of the 3.5 Tonne Luton Van is flat on the base which makes it an ideal van for transporting boxes as the wheel arches don't interfere with the shape of the inside.
The 3.5 Tonne Luton Van is ideal for moving to a two-bedroom flat or small house with around 40 boxes in addition to the furniture.
Quick facts
40 boxes + furniture
Two bedroom flat or a small house
7.5 Tonne Luton Van
The biggest option available for hire is the 7.5 Tonne Luton Van with a capacity of around 1200 cubic feet. These are used for transporting multiple large items of furniture such as three to four beds, multiple sofas, wardrobes etc. plus 40-50 boxes all in one move.
This is the type of van you will need for moving a three to four-bed house.
Luton Van internal dimensions:
Luton van length: 6.1m
Luton van height: 2.4m
Luton van width: 2.35m
Quick facts
4 bed, sofas, wardrobes etc + 40 boxes
Three/Four bed house
Do I need removal van insurance?
There are two main types of insurance you need to consider when hiring a removal van.
This type of insurance is essential and provides cover for the physical vehicle itself and the legal requirement of the exchange of money for the transportation of goods.
This type of insurance is not a legal requirement but is very useful to have as it covers you for any damage to your possessions or the property during the removal process to a limit of around £10,000.
When it involves all your possessions, it's definitely something worth considering.
Do I need any extra equipment when hiring a removal van?
This depends on whether you are hiring just a van to do the moving process yourself or a company to do the whole move for you. If you are choosing the latter, you definitely won't need any extra equipment as they will do all the work for you.
If you are doing the move yourself, it largely depends on which van you choose and how much you are moving. Vans such as the 3.5 Tonne Luton has a tail lift which means you won't need any additional help lifting your furnishings into the van.
However, you may need assistance if you have any particularly heavy items to lift into the van without a tail lift.
If you are using a MWB then you are unlikely to need any extra equipment as they are close enough to the ground to lift items into.
Important things to consider
These are rough guides for the different sizes of moving vans, there will be slight differences depending on the model of the van.
Top tip: Speaking to the removal company ahead of time will help ensure you are choosing the best van for your needs.
Don't forget that although you may have estimated the size of your furnishings, the way they stack and fit together may not be as simple – things like sofas are not set shapes after all. It's always better to overestimate the size you will need to allow for this margin and ensure your moving day goes as smoothly as possible.
Another thing to consider is how far in advance you need to plan your move, both for booking your moving van and allowing time to pack all your belongings so they are ready in boxes by moving day.
Final thoughts
Choosing the right van for your move can be difficult, but if you assess what possessions you have and use our moving house van guide it should be clear to see which size will be right for you. You can also use our storage size estimator to help.
We can also help make your move cost-effective with our exclusive offers on van hire from Enterprise. If you also need help moving your items we can also help out you in touch with local van and man companies to help you with your move.
If you are unsure, don't hesitate to contact us. We have self storage units across the country from northern areas such as Manchester and Leeds to the Midlands in Nottingham and Peterborough all the way down South with storage units in Eastleigh and Wokingham. Plus many more!
We can help you with all your self storage needs, from self storage pricing to flexible contracts.