Renowned for its picture-perfect seafront and sandy beaches, Great Yarmouth is a popular seaside resort on the East Coast. Throughout history, it has long been a place of escape for Brits seeking sunshine, and these days, not much at all has changed.
In fact, so 'great' is Yarmouth, that the local council have tried to secure the region as the UK City of Culture in 2025. If you're thinking of moving to Great Yarmouth yourself, there is no better time – here's what to know before you take the plunge.
Where to live in and around Great Yarmouth
Average house prices
The cost of living
Things to do in Great Yarmouth
Getting about
Education
Employment opportunities
Moving to Great Yarmouth; relocation checklist9. Why keep your belongings with Ready Steady Store?
Where to live in and around Great Yarmouth
Caister
This village is well known for its life boating traditions, a wide selection of pubs, and, most interestingly, the ruins of a Shakespearian castle. In 2020, Caister-on-Sea was also listed among the country's most in-demand seaside locations (and the only one in Norfolk) thanks to its vast and lengthy Georgian seashore.
Hopton
If you want to be nearer the coast, but away from the crowds, Hopton-on-Sea has a quiet atmosphere. It's not, however, too far out in the sticks with many amenities close and is only a short drive away from Lowestoft.
Gorleston
Thanks to its award-winning beach and top-rated dining, Gorleston-on-Sea is another hot spot for buyers. With the added benefit of a close-knit community, it can also offer a slower pace of life and is a great place for starting a family.
Average house prices
According to Rightmove, Great Yarmouth has had an average property price of £213,594 over the last year. The majority of sales were terraced properties which sold for an average price of £166,565; detached, which sold for around £340,155; and semi-detached properties, which fetched an average of £228,859.
As a whole, Great Yarmouth house prices have increased by 4% from the previous year and are also 12% up on the 2020 peak of £190,557. With such a wide variety of properties on offer, you also get way more house for your money here than in other parts of Norfolk.
The cost of living
On average, it's estimated the average salary in Great Yarmouth is £33,584 per annum, according to job site Adzuna. You can also expect to pay £4 for a pint of beer, while a meal for two will set you back around £45 in a mid-range restaurant.
Things to do in Great Yarmouth
Enjoy its unspoilt beauty
Known as the Sunshine Coast, in summer, Great Yarmouth experiences over 330 hours of Sunlight. There are also many beaches, unspoilt nature reserves and walking trails to explore – it really is a beautiful region to discover on foot.
Visit the region's many attractions
With a massive range of places of interest and fun attractions, there's always something to do in Great Yarmouth. In fact, Pleasure Beach is one of Britain's top tourist attractions and will be a hit with the kids. Then there's Merrivale Model Village with its miniature gardens and railway.
Make the most of its heritage
With its beautiful structures and rich heritage, the region has a lot to offer. From one of the UK's best-preserved Victorian herring curing works to the Roman ruins at Burgh Castle, here are some ideas for a fascinating day out.
Catch a show and have a bite to eat
There are also a variety of shows on offer in Great Yarmouth, from thrilling circus performances to comedies and musicals. Likewise, if you want to eat out, you'll find a restaurant to suit any tastebud and pocket – the area has many offerings from local seafood to modern British cuisine.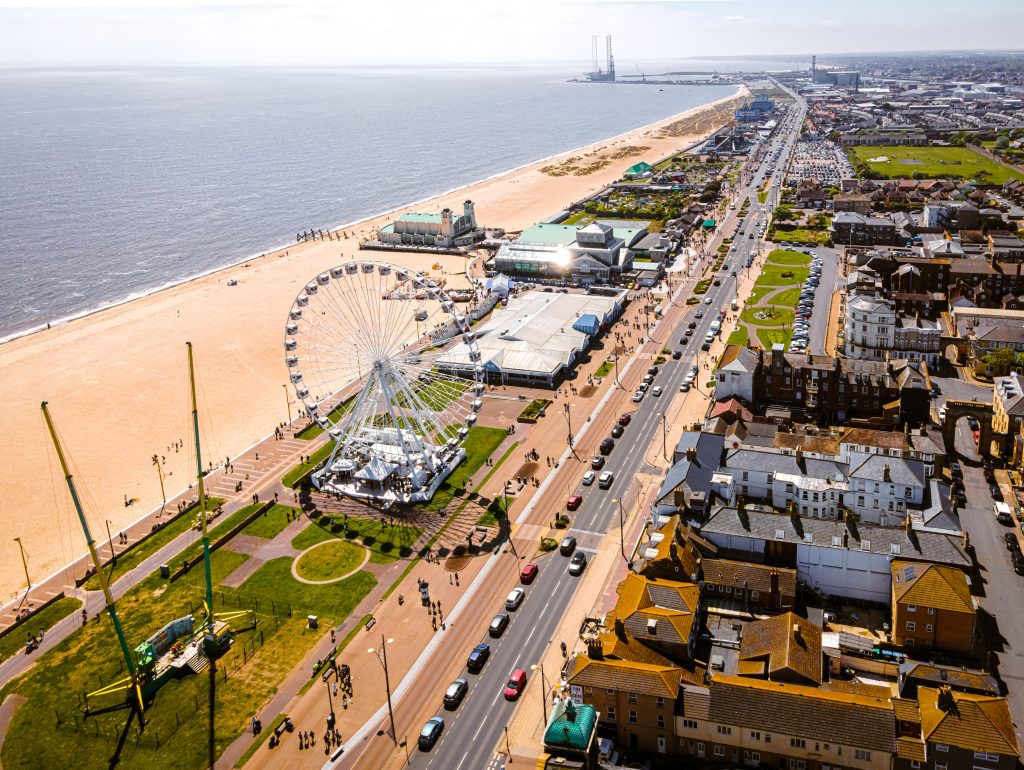 Getting about
With good transport connections to Lowestoft, Beccles and Norwich, Great Yarmouth is very convenient for travel. Getting to Lowestoft will take you just 20 minutes by car, Beccles 30, and there is a bus service from Norwich every 15 minutes, with a train every hour. The city of Norwich also opens up a variety of options further afield, with London Liverpool Street about 3 hours away by train from Great Yarmouth. Likewise, it only takes 2 hours to reach Ipswich and Cambridge by public transport. There are no limits when it comes to Norwich's transport options.
Education
According to Snobe, Great Yarmouth has 2,969 pupils attending 40 schools. Compared to the nation's average of 25.13%, in 2019, 28.38% of high school students also achieved five or more grades in GCSEs.
Five of the best primary schools in Great Yarmouth:
St Nicholas Priory CofE VA Primary School
St George's Primary & Nursery School, Great Yarmouth
Ormiston Herman Academy
Great Yarmouth Primary Academy
North Denes Primary School
Five top-rated secondary schools in the region:
Ormiston Venture Academy
Caister Academy
Cliff Park Ormiston Academy
Lynn Grove Academy
Flegg High Ormiston Academy
Employment opportunities
A thriving region, Great Yarmouth is home to a 400-company-strong marine energy supply chain, and some of the top companies hiring include Gardline Environmental, Norfolk County Council and Haven Holidays. Additionally, there are plans to redevelop the North Quay gateway, overlooking Breydon Water which will create more jobs and boost the local economy further.
Alongside energy and tourism, other employment opportunities include:
Logistics and port operations
Advanced manufacturing and engineering
Surveying and marine science
Repair and construction of boats
Moving to Great Yarmouth; relocation checklist
1. Declutter
The best time to have a clear-out is when you plan to move home. This way, you'll have less to pack and less to take. If you're finding it hard, the 80-20 rule can help. Research shows that people only use 20% of what they own 80% of the time.
2. Pack up
Once you have a date for the move, prioritise packing; this will stop you from feeling overwhelmed nearer the time. Start with the things you don't use and leave the essentials until last. Here's where you can also get cardboard boxes for free.
3. Book a removal van or company
When it comes to the move, hiring experts will ensure your belongings are handled in a professional way. Alternatively, if you'd prefer to drive your possessions yourself, van hire is another option – this way, you'll also have greater flexibility to move how you want. Why not take a look at some of the other services we can also provide?
4. Let everyone know you have moved
Out of our checklist tips, this one is pretty important – some people will need to know your new address. Don't forget to notify organisations such as the DVLA, utility providers and your banks. The following will also need notifying of your house move:
Insurance companies
Government bodies (such as the electoral register and HMRC)
Healthcare providers and doctors
Any subscriptions for your pet(s)
For further help and advice, check out our moving home address change checklist.
5. Organise self-storage in Great Yarmouth
If you plan to renovate your new home, then self storage could hold your belongings while the work takes place. We currently have two locations in Great Yarmouth offering a range of unit sizes, and we're well connected to the West and South of Great Yarmouth with the A47 and A143 close.
Why keep your belongings with Ready Steady Store?
No matter where you are in Great Yarmouth, at Ready Steady Store, we offer two convenient storage locations:
Great Yarmouth – Bowling Green Walk, Great Yarmouth, NR30 1JW
Great Yarmouth Southtown – 76a Southtown Road, Great Yarmouth, NR31 0JR
We also offer the flexibility to scale up and down as you need and a big discount for up to 12 weeks. For more information, get in touch with our team or call the Store Reception on 01493 801313.