Are you planning to move to Peterborough? Whether you're relocating for work, family, or a change of scenery, this bustling city in the East of England has plenty to offer. From its rich history to its modern developments, Peterborough is a city that's on the rise.
According to the latest statistics, Peterborough is the fourth fastest-growing city, beating the likes of London, Manchester and Newcastle in the process.
From its industrial beginnings, Peterborough has been steeped in history and has since undergone a substantial economic boom; due to its modernisation, Peterborough has more opportunities for work and things to do in your spare time than ever before.
This guide will tell you everything you need to know about moving to Peterborough, including:
Best places to live in Peterborough
Average house prices

Cost of living in Peterborough

Things to do
Travelling in and around Peterborough
Education
Employment opportunities in Peterborough
A relocation checklist to help make a move easier
Best places to live in Peterborough
When finding the best place to live in Peterborough, there are a few factors to consider. The city has a diverse range of neighbourhoods, each with its own unique character and amenities. These areas offer a mix of suburban and rural living with excellent schools and amenities. Some of the best places to live in Peterborough include:
Orton Longueville
This peaceful green neighbourhood is perfect for families. It has easy access to schools, parks, and other amenities. Orton Longueville has seen many homes constructed and flourishing. The Nene Parkway (A1260), cutting from North to South, divides this unique settlement into two distinct sides: to the West lies an original quaint village area. On the Eastward side, you'll find housing estates and light warehousing sprawled across former farmland developed more recently.
Hampton Vale 
Hampton Vale is a trendy, up-and-coming neighbourhood with a range of new housing developments and easy access to shops, restaurants, and other amenities. For those wanting more new or modern surroundings, Hampton Vale is where you should look. With more modern builds, Hampton Vale also offers a host of amenities, as well as offering a range of surrounding lakes – perfect for weekend walks.
Whittlesey 
In a further escape to the country, six miles east of Peterborough you'll find the town of Whittlesey. An area mostly dominated by large, attractive homes, the area is well spaced out without homes being on top of one another so you'll have plenty of space and privacy. It also has its own train station, offering great service into Peterborough city centre and beyond.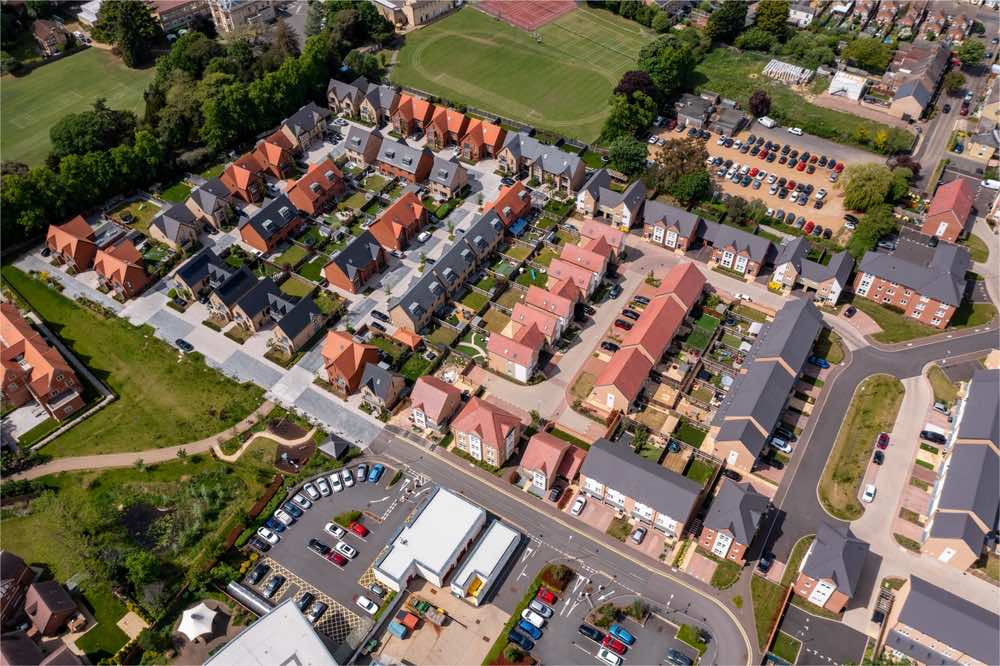 Average house prices in Peterborough 
The average house price in Peterborough is £254,219 over the last year, which is 11.5% lower than the UK average of £287,506, and 52.2% lower than London's average housing, which is at £532,212. Interestingly, Peterborough's housing value has shown a 4% increase compared to Corby, despite being only 24.4 miles apart. This can be attributed to the growing employment opportunities in Peterborough over the years.
Peterborough has seen a surge in the sale of detached properties over the last year, with an average price of £364,014. But it's not just large residences attracting attention – terraced and semi-detached homes have become quite popular too; with averages of £198,545 and £235,417, respectively. However, house prices can vary depending on the location and size of the property. For example, the average price for a 2-bedroom house in Orton Longueville is around £190,000. In contrast, a 3-bedroom home in Hampton can cost around £250,000.
Cost of living in Peterborough 
The cost of living in Peterborough is generally lower than in other UK cities. However, it's worth noting that the cost of living can vary depending on your lifestyle and spending habits. The average monthly rent for a 1-bedroom apartment in the city centre is around £600, while a meal for two at a mid-range restaurant can cost around £45.
Research by Property Notify indicates that house prices in the UK have continued to rise by a respectable 6.3% annually. However, inflation remains high at 10.4%, 4.1% above the average rate of house price growth.
Interestingly, many major UK cities are performing better than the average rate of house price growth compared to inflation. 22 out of 62 major cities analysed have strong house price growth rates versus inflation. Peterborough is currently leading the way, with house prices climbing by 14.4% in the last year, a 4.1% difference from the current inflation rate of 10.2%.
Wigan and Derby are also performing well, with house prices up 13.9% and inflation rates at 10.7% and 10.9%, respectively. The difference between house price growth and inflation in these two cities is 3.2% and 3.0%.
Numbeo estimates show that the cost of living in Peterborough is 21.1% cheaper than in London. Additionally, the rent in Peterborough is 74% lower than in London, and 30.3% lower than in Liverpool.
What's on in Peterborough? 
Peterborough is a city that has a lot to offer. It has a variety of art galleries and museums that showcase the city's diverse culture. The city is a great place to live and is highly sought after by both national and international students.
There are numerous options for shopping in the city, including three shopping centres, a few markets, and a wide range of independent boutiques. you will always find something that you like. Also, keep an eye out for student discounts in most shopping centres.
If you're looking to grab an evening drink or just have a night of dancing, Peterborough has an array of drinking spots, from bars to pubs to clubs. Live music can be found in some pubs, while most bars have DJ's. You'll easily find the perfect place to suit your preferences.
If you're looking to be out and about, Peterborough has plenty of things to see and do, whether you're interested in history, nature, or culture. Some of the top attractions in the city include:
Peterborough Cathedral
This magnificent cathedral dates to the 12th century and is one of Europe's finest examples of Romanesque architecture. A dream for history lovers and art enthusiasts alike – the cathedral, with its inspiring Norman architecture and medieval artwork, offers an unforgettable journey through time and culture.
Nene Park
This large park offers plenty of opportunities for outdoor activities, including walking, cycling, and fishing. Ferry Meadows, Orton Meadows, Orton Mere, Woodston Reach and Thorpe Meadows are all connected by the River Nene.
Elton Hall
Elton Hall, a stunning 17th-century mansion located within a brief distance from the city, boasts grand, turret-like towers and an impressive array of classic artwork. It's ideal for anyone looking to experience rich culture and heritage.
Sport
Football fans will also be pleased to hear the city has its own football team. Peterborough United, also known as 'The Posh', currently play in the third tier of the English football pyramid and play their home games at nearby Weston Park. 

Nightlife 
One of Peterborough's most popular nightlife venues is The Stoneworks Bar. This quirky craft beer bar is Peterborough's highest-rated nightlife venue on TripAdvisor; offering a range of mismatched furniture and a variety of craft beers, head to this character-filled bar for after-work drinks.
Travelling in Peterborough
Peterborough is well-connected to other parts of the UK, with excellent road, rail, and air links. This city was named the best commuter town for London and Cambridge, when people started searching for countryside home with good transport links. Several bus routes operate within the city and to nearby towns and villages. The nearest airport is London Stansted, an hour's drive from Peterborough.
Trains
The city is located on the East Coast Main Line, which provides fast and frequent trains to London and other major cities. On a typical weekday, approximately 65 trains operate from Peterborough to London. The quickest train takes only 45 minutes to reach Kings Cross, making it feasible to purchase a lovely home in the region and commute to the city daily, provided that the journey to the station is kept to a maximum of 15-20 minutes.
Peterborough is a well-connected city with links in almost every direction. You can take the East Coast mainline through Doncaster, Leeds, and Newcastle towards Edinburgh if heading north. If Birmingham is your destination, there's a direct train service available. The station is conveniently located in the heart of the city, with ample parking, cycle sheds, and bus routes nearby.
Buses
Peterborough offers a well-connected bus system that covers all city areas, with buses operating as often as every 10 minutes during the day. You can check bus times by visiting Traveline.
Cycle routes
Peterborough has a network of over 150 cycle routes linking the city via its Green Wheel route. For just £2.50 a day, you can hire a bicycle through the Brompton Dock bike hire scheme, which can be easily folded and carried on the train. Electric bikes by Voi are also available, conveniently located through the app and ridden around the city.
Cars
Private cars tend to be the preferred choice of transport in Peterborough. The A1260 plays a significant role in Peterborough's transport network. The A1(M) motorway passes through the city connecting it to London and Glasgow. It provides access to the national motorway network, making it easy to travel to most cities in the UK.
Peterborough also offers various transport services that cater to individuals who face accessibility challenges or lack access to public transportation like:
Community Link- Provided by the Peterborough City Council, it's a wheelchair-friendly door-to-door service available to residents of urban areas in Peterborough. The membership fee is £5 for an individual and £7.50 for a couple per year. This fee includes the cost of your fare, which is equivalent to a standard bus fare. You can use a concessionary bus pass for this service as well.
Rural Dial-a-Ride- It's a transportation service that caters to people residing in the neighbouring villages of Peterborough. It's designed to assist individuals facing mobility issues who need help and ensure wheelchair-accessible door-to-door transport to its customers. The Dial-a-Ride scheme charges an annual fee of £10 for an individual or £15 for a couple to become a member. You can use a concessionary bus pass for this service as well.
CallConnect- It is a transport service that operates on demand and covers areas of Peterborough, Rutland, and Stamford, where there is no regular commercial bus service. It uses minibuses to connect hamlets, villages, and market towns throughout Lincolnshire and nearby regions.
Education
Peterborough has a range of excellent schools, both state-funded and independent. The city also has several colleges and universities, including Peterborough Regional College and the University Centre Peterborough.
You can find more information here for parents looking for the best schools in the city.
ARU Peterborough is a new university developed as a partnership between the Cambridgeshire & Peterborough Combined Authority, Peterborough City Council, and Anglia Ruskin University. This £30 million university opened its doors in September 2022, and offers courses for up to 12,500 students by 2032. ARU Peterborough is committed to providing inclusive higher education that can bring about a transformational change in the city and the region. The university is working closely with regional employers to co-create and deliver the curriculum, thereby ensuring that students learn the skills in demand in the local job market.
Employment Opportunities
Peterborough has a thriving economy, with various industries and sectors represented. Some of the top employers in the city include Amazon, Tesco, Safapac (a leading chemical manufacturer), and Perkins Engines. There are also plenty of opportunities for self-employment and entrepreneurship, with a growing number of startups and small businesses in the area.
A government hub in Peterborough was recently inaugurated by Cabinet Office Minister Alex Burghart. This initiative is a part of the government hubs programme that aims to relocate 22,000 government jobs from London to various communities throughout the UK by 2030. The Fletton Quays site is undergoing a major regeneration worth £120 million, which includes the creation of the new Hub. This development is being led by the Peterborough Investment Partnership and Bride Hall, the site's developer. The project is expected to generate more than £340 million of private sector revenue for Peterborough.
Relocating Checklist
Before you move to Peterborough, planning is essential and ensuring everything is in order. Here's a checklist to help you start:
 Research the best places to live in Peterborough and choose a neighbourhood that suits your needs.
Determine your budget and look for a home that fits your price range.
Consider the cost of living in Peterborough and ensure you have enough savings to cover your expenses.
Register with a GP and ensure you have all the necessary medical documents.
Research schools and childcare options if you have children.
Find out about employment opportunities in the area and start looking for a job if necessary.
Hire a reputable moving company to help you with the move.
Need help with moving to Peterborough? 
Are you considering moving to Peterborough? When you've decided and ready to move, why not check out our moving checklist. Looking to store things or you'd just like a bit more space in your new home, get in contact with a member of staff at our Peterborough store.
We also offer:
Flexibility: If you need to, you can scale up or down your storage unit to suit your needs. Just get in touch with our store today, and only pay for what you need.

Updated

safety procedures

: All of our self storage stores offer online registration and contact-free move-ins so you can be certain you're staying safe when you store with us.

My Account Feature: You can now manage your storage online. Whether you're sitting at home or stuck at the office, you have 24-hour access to your storage needs, right at your fingertips. 

On-site extras: For all of your packing needs, head over to our

box shop

now while we also offer shelves and racking to keep your unit tidy along with trolleys and lift access for ease when moving in and out.
At Ready Steady Store, we offer secure storage facilities right in the heart of Peterborough, taking away some of the stress of moving to a new city. Find out more here.