Is moving to Rugby on the cards for you soon? This town is highly sought-after for many good reasons. One, it boasts a range of brilliant schools, including state, private and grammar, and two, the prices of property aren't bad either.
The birthplace of the famous ball game and the jet engine, Rugby is now Warwickshire's second-largest town after Nuneaton. It also boasts some fast and direct rail links from Rugby's busy train station, meaning commuters are able to travel to London Euston in around 56 minutes.
Overall Rugby offers a mellow atmosphere with a mix of age groups and has a current population of 117,000. In 2020, it also ranked among the UK's top 50 best places to live according to the Halifax Quality of Life survey and is considered one of the safest areas in Warwickshire.
Moving to Rugby, but not sure where to begin? Continue reading for the full lowdown…
Where should you live in Rugby?
Average house prices
The cost of living in Rugby
Places of interest and things to do
Transport
The best schools in Rugby
Employment
Moving to Rugby; a handy checklist for relocating
Streamline the moving process with self storage in Rugby
Where should you live in Rugby?
With an abundance of fantastic neighbourhoods to choose from, you'll be overwhelmed with options when it comes to finding your dream home in Rugby:
Newbold on Avon
Nestled on the eastern edge of Warwickshire, Newbold-on-Avon is a charming suburb of Rugby. Whether you seek a rural lifestyle or easy access to city amenities, Newbold-on-Avon offers the best of both worlds, with excellent commuter links to Birmingham, Manchester, and Liverpool.
If you love getting outdoors, the neighbourhood boasts an array of delightful parks, such as Centenary Park and Swift Valley Nature Reserve. Here, residents also enjoy a diverse selection of independent shops and cosy pubs with families, in particular, finding Newbold-on-Avon an ideal place to flourish.
Clifton-upon-Dunsmore
Just 10 minutes away from Rugby by car lies Clifton-Upon-Dunsmore, a truly idyllic place to live. This rural haven offers residents a desirable standard of living and a serene atmosphere thanks to its proximity to many local beauty spots.
Nature enthusiasts will revel in the village's breathtaking surroundings, with nearby attractions including the scenic Draycote Water and Shuckburgh Country Park. Likewise, with its excellent transport links, it also makes an ideal place for commuters, and the village stands as one of the most coveted residential destinations in Warwickshire.
Cawston
Situated southwest of Rugby, this charming village is easily accessible via the A4071 road and enjoys proximity to the M45 motorway. It also offers a variety of property styles, from traditional-period homes to contemporary houses with sleek finishes.
With a population of over 3,000 people, Cawston is clearly a likeable place, and the village caters to the daily requirements of its residents. Whether you need to run a few errands or would like to enjoy a meal out, Cawston offers the necessary amenities within easy reach.
Here are some other amenities you'll find in and around Cawston:
Cawston Grange Primary School
Local nursery
Small supermarket
Welcoming pub
Our self storage facility is also just an 11-minute drive from the village of Cawston (4.6 mi)
Dunchurch
A pretty village located on the outskirts of Rugby, Dunchurch is a sought-after area and offers a delightful living experience. With its enchanting thatched-roof structures and picturesque setting, the village exudes a unique kind of charm.
Typical properties for sale include spacious apartments, Grade II listed buildings, and end-of-mews properties. Dunchurch is also a commuter's dream, thanks to its direct train route to London Euston, making it an ideal location for those who work in the city.
Overslade
Surrounded by scenic countryside, and rolling hills, Overslade is a serene and close-knit rural village. It also boasts a range of local amenities, including shops, a post office, a pub, and a number of churches.
Additionally, Overslade is well-served by numerous sports clubs giving residents the chance to participate in local activities. With a mix of different property types, the village is popular with families too, especially given the presence of some of the best schools in the area.
Average house prices
When compared to the wider Warwickshire county, Rugby presents an attractive house market for buyers with many affordable options. Areas such as the ones detailed above are also particularly sought after, along with Barby, Thurlaston and nearby Ashby St Ledgers.
Average house prices in Rugby, according to Rightmove:
Average house (figures based on the previous year) – £306,096
Terraced properties – £232,992
Semi-detached properties – £284,882
Detached properties – £447,292
Rugby rental prices
Current market rents in Rugby according to Home.co.uk:
One bedroom – £588
Two bedrooms – £800
Three bedrooms – £1,100
Four bedrooms – £1,575
Five bedrooms – £2,350
The cost of living in Rugby
When considering the cost of living in Rugby, it's important to note that prices tend to be higher compared to the UK national average for daily expenses. On the bright side, however, utility bills are relatively lower, with the monthly amount costing approximately £126.
Likewise, broadband expenses align with the national average, coming in at around £30 per month. It's also estimated a typical salary in Rugby is £32,097 per annum, according to job site Adzuna.
Places of interest and things to do
Historical attractions
Home to several captivating landmarks that explore the market town's past, in Rugby, you'll always have something to new to explore and discover. For instance, why not take a tour of the notable Rugby School to witness its contribution to sport? Another must-visit is the Webb Ellis Rugby Football Museum.
Additionally, the Rugby Museum offers a glimpse into the town's history through its diverse collection of art and exhibitions. Be sure to also check out St. Andrew's Church, a medieval masterpiece featuring stunning architecture and intriguing historical artefacts.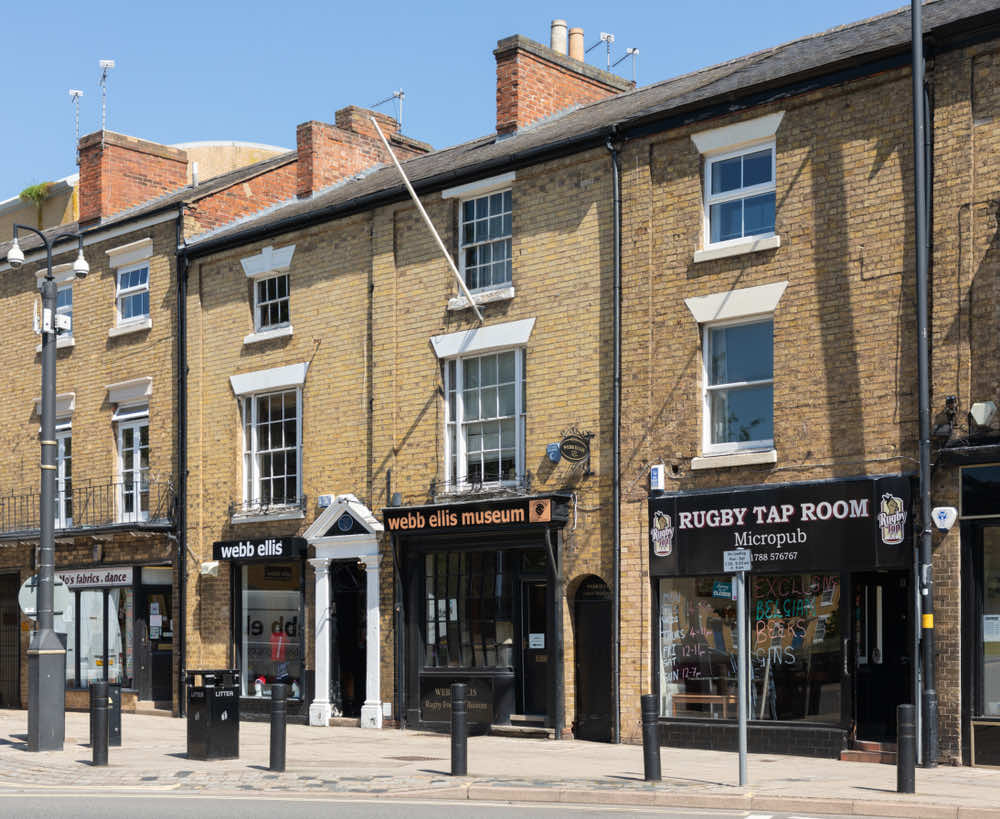 Shopping and eating out
Despite its close proximity to Birmingham, Coventry, and Northampton, Rugby boasts an array of essential amenities right on the doorstep. This includes a remarkable variety of independent retailers, bars, and restaurants, ensuring that you have easy access to all your needs without having to travel too far.
Top picks for eating out according to Tripadvisor:
Three places to shop til' you drop:
Sports and recreation
For lovers of sport, in Rugby, there's always something to play, depending on your individual interests. Why not tea off at the Rugby Golf Club, a scenic golf course and one of the oldest courses in the midlands, or indulge in a game of tennis at the Rugby School Sports Centre?
Outdoors and nature
If you're looking to experience outdoor activities, you're in luck; the surrounding area offers a wide range of options for exploring the countryside. From pretty cycling routes to a spot of fishing, you'll feel at one with nature in Rugby.
If you're looking to venture further afield, you can reach the Cotswolds and the Peak District in just under 90 minutes. Alternatively, if you wish to remain in Rugby itself, we recommend visiting Caldecott Park for a leisurely stroll or picnic in well-maintained gardens.
Nature enthusiasts will also appreciate:
Draycote Water – for water sports and scenic walks around the reservoir.
Swift Valley Nature Reserve – offering diverse wildlife and serene trails to explore.
Oxford Canal towpath – this leafy stroll is just under 3 miles long.
Dovedale (Ashbourne) – an iconic part of the Peak District and beauty spot.
Events and entertainment
The entertainment scene in Rugby is vibrant and diverse, catering to a range of interests. Culture vultures will find delight in the city's theatres, galleries, and live venues. The Rugby Art Gallery and Museum and Rugby Theatre, in particular, offer opportunities to explore visual arts and enjoy live performances.
On the other hand, The Benn Hall Theatre host various events, and the town also hosts many Heritage Open Days too. Then there's Rugby's popular Festival on The Close and Rugby Food and Drink celebrating arts, culture, creativity, and culinary delights.
Transport
With its excellent rail and road connections, Rugby enjoys outstanding transport accessibility, making it easily reachable from various other parts of the UK:
Bus – the bus network in Rugby is a well-established and reliable transportation option. Operated by multiple service providers, it offers comprehensive coverage throughout the town and its surroundings, providing residents with convenient and affordable travel opportunities. Click here to view Warwickshire County Council's Bus Information.
Train – situated on the West Coast Main Line, Rugby's train network is a major highlight, with services to London taking less than 50 minutes and Birmingham just 17 minutes. You can also catch a regular train to destinations such as Northampton, Manchester, and Stafford – click here to book your tickets online.
Car – Rugby benefits from its proximity to various important roadways, such as the M1, M6, and M45 motorways, enabling convenient access to and from the town. Additionally, the A5, A14, and A45 roads, along with a bypass on the Rugby Western Road, improve local road connections and infrastructure.
Plane – if you have plans to travel further afield, it's worth noting that Birmingham International Airport is conveniently located approximately a 30-minute drive away from Rugby. This airport offers flights to a wide range of domestic and international destinations, providing travellers with ample options and convenience for their air travel needs.
The best schools in Rugby
Founded in 1567, Rugby School is a renowned independent institution that, as previously mentioned, holds global recognition for being the place where the popular sport of rugby originated. Currently, the school educates approximately 800 students, but if private schooling isn't for you, the region of Rugby offers excellent options for primary and secondary education.
The best primary schools in Rugby:
Three highly-rated secondary schools:
Higher education
The West Midlands region also boasts a plethora of esteemed educational institutions, both at college and university levels. Renowned names like the University of Warwick, Coventry University, and the University of Birmingham are just a short drive away.
Employment
With a strong local economy, Rugby provides a promising environment for employment and career growth. This is likely down to the town's strategic location within the Midlands region, as well as its proximity to major transportation routes, which enhances its appeal to businesses and job seekers alike.
Unsurprisingly, Rugby has a high employment rate, and the town benefits from a diverse range of industries, including manufacturing, logistics, technology, and professional services. The fastest-growing, however, is roles within the fields of business and public service which increased 168% between July 2021 and July 2022.
According to Adzuna, some of the top companies hiring in Rugby are:
Simply Business
General Electric
GE
Moving to Rugby; a handy checklist for relocating
Moving to a new home can be an overwhelming experience, but with careful planning and organisation, it can become a straightforward process. This 5-step checklist will help you stay on track and ensure you and your family have a stress-free move:
1. Create a timeline and declutter
To prepare for your move, creating a rough timeline can help, especially since the process can take between 8 and 10 long weeks. Knowing things like when property surveys are due and other important deadlines will help you stay on track and informed throughout the process.
You might also want to have a declutter to part with no longer needed items – that'll make things much simpler when it comes to packing. Begin by tackling rooms one by one and sorting things into three piles; keep, donate, and discard.
2. Organise packing and labelling
When it comes to packing, organisation is key to making unboxing on the other side easy. Start by gathering all the necessary packing supplies, such as sturdy boxes and tape, biodegradable bubble wrap, and a marker pen.
To pack like a pro, start with non-essential items and work your way through each room. Clear labelling is also important to indicate what contents go where – you could even go as far as colour coding if you have time.
If you have any large or seasonal items, consider using self storage. Not only will this free up space in your new home, but it will also provide you with the necessary room to settle in and adjust to your new surroundings. Then when you wish to use them again, you can simply pick them back up – our unit sizes are as flexible as you need them to be.
3. Consider a removal company vs hiring a van
If you're conscious of budget, take some time to research – after all, a van might be better than hiring a full removal team. You can always rope in family and friends to help out and do the driving yourself. Hiring a van will also allow you to have more control over the moving process.
Check out our exclusive Enterprise van deals.
4. Notify the relevant people of your new address
These include:
Electoral register, HMRC and DVLA
Utility providers
Insurance firms (pet, house, car and life)
Banks, lenders and any other financial institutions
Service providers for bills (like broadband and mobile phone contracts)
Doctors, dentists and other health providers
Memberships and subscriptions
The microchip database for your pet(s)
5. Pack the essentials, move and settle in
Now that you're just about ready to move, grab a box for those essentials like clothes – this way, at least you'll have a fresh set for the next day. If you're moving with kids, then don't forget to pack a few snacks and toys to keep them entertained.
Once you're ready to make a start with unpacking, take a systematic approach. One room at a time can make the task feel less daunting. And remember, it's perfectly alright to take your time with each room to arrange the space to your liking. Adding personal touches is what truly transforms a new house into a warm and inviting home.
Streamline the moving process with self storage in Rugby
We've no doubt moving to Rugby will be a wise decision, especially if you and your family are seeking a change from a busy city. To make the move more straightforward, why not look into renting a unit? Household and personal storage can offer a flexible solution during the transition.
Five reasons why residents choose Ready Steady Store, Rugby:
Central location – our Rugby store is conveniently situated just off the A426 close to the River Swift, making it an ideal choice for customers in the surrounding areas.
24/7 secure access – enjoy the convenience of accessing your unit 24/7 with around-the-clock CCTV in operation.
Contact-free move-ins and management – all of our storage facilities offer remote registration and monitoring, reducing the need for in-person visits.
Additional features – to enhance your storage experience, we also offer racking and shelves to keep your unit spic and span.
For secure storage solutions, why not give us a call? Our Rugby team are always happy to help out. You can reach us on 0800 321 3211 or simply visit our store to take advantage of up to 12 weeks half price on our storage units and exclusive deals with Enterprise van hire.