If you're thinking of moving to Tunstall, it's a nice place to live and has a lot to offer families. Likewise, if you're looking for easy motorway links, again, the town hits the right notes; here, you can find yourself on the A500 within minutes of leaving home.
The most northerly of Stoke-on-Trent's six towns, Tunstall is the fourth largest and has a great selection of schools for children of any age. It also boasts a Grade II listed park and is mainly made up of new-builds and Victorian terraced houses built during the pottery boom to house workers.
Speaking of property, here you also get a lot more for your money, making it attractive for people looking to buy newer homes. And with its higher-than-average recreation facilities, what more could you want? Let's take a look at what it's like living in Tunstall.
The best places to live in and around Tunstall
An overview of property prices
The cost of living in Tunstall
Activities and things to check out
Tunstall's transport system
The best schools in Tunstall
Job prospects
Moving to Tunstall; your essential relocation checklist
Streamline your move with self storage in Tunstall
The best places to live in and around Tunstall
Tunstall
With its central location and outstanding schools, Tunstall attracts young professionals and families looking for an ideal place to settle down. Additionally, if you find yourself in need of self storage during your move, Tunstall is home to one of our stores, conveniently located on Beaumont Road.
For those in search of luxurious living, executive detached homes with generous room sizes and well-maintained gardens can be found along desirable streets like Hurricane Grove. On the other hand, if the charm of a Victorian terrace appeals, make sure to explore the offerings on Kenworthy Street. Alternatively, Palace Court offers contemporary purpose-built apartments.
Burslem
Burslem, known as the hometown of pop sensation Robbie Williams, offers a unique living experience that appeals to a range of different people. It also hosts ''the Robbie tourist trail'', where fans can explore the significant sites associated with the entertainer, including the pub where he grew up, his former school, and the houses he lived in.
In addition to its celebrity connections, Burslem boasts a diverse housing market. From modern three-story townhouses to two-up, two-down homes, here, you're sure to find something you love. Moreover, Burslem offers many local attractions, including the scenic Trent & Mersey Canal, and is notably home to the Old Town Hall, a prominent architectural landmark.
Kidsgrove
Just a 10-minute drive from Tunstall via the A50, Kidsgrove offers a unique blend of history and natural beauty. Once a bustling coal mining village, it has evolved into a charming place to call home and is surrounded by picturesque countryside that provides ample opportunities for outdoor activities.
In Kidsgrove, you'll also find the renowned Harecastle Tunnels, a historic passage that stretches 1.6 miles (2.6 km) along the Trent and Mersey Canal. Likewise, the area's local train station makes it very easy to travel and is situated 7.5 miles north of Stoke-on-Trent.
Fenton
As the largest of Stoke-on-Trent's towns, Fenton boasts a captivating blend of features that make it an attractive place to live. Renowned for its splendid parks and green spaces, Fenton offers residents access to some of the finest natural retreats in North Staffordshire.
The town also showcases magnificent architecture and is home to Stoke-on-Trent's only traditional square, creating a distinctive and vibrant atmosphere.
Victorian terraces also adorn streets like Victoria Road, while more contemporary options can be found on Annette Road. In addition, families seeking a comfortable home will appreciate the post-war semis on Fenpark Road, featuring three bedrooms and charming gardens overlooking the nearby park.
Hanley
The hub of the region's pottery industry, Hanley is a vibrant and central location. Here, you'll find The Potteries Museum & Art Gallery as well as road links to other major cities, just some of the reasons why many people are drawn to the area.
The town is also highly appealing to families thanks to its range of affordable housing. Market options range from cosy one-bedroom flats to charming semi-detached homes and elegant Victorian terraces.
Require self storage to help with your move? We have a second location, just a 7-minute drive from Hanley town centre.
An overview of property prices
Tunstall, nestled in the heart of the Potteries, offers an enticing advantage when it comes to house prices. When compared with other areas in the region, prices in Tunstall tend to be more affordable, providing buyers with exceptional value for their money.
Average house (figures based on the past year) – £128,760
Terraced properties – £93,240
Semi-detached properties – £149,875
Detached properties – £235,119
Renting in Tunstall
According to Home.co.uk, the current market monthly rents in Staffordshire are as follows:
One bedroom – £699
Two bedrooms – £795
Three bedrooms – £1,016
Four bedrooms – £1,327
Five bedrooms – £1,220
The cost of living in Tunstall
You don't need deep pockets to live in Tunstall; in fact, local rent is, on average, 71% lower than in London. As for the cost of living, this is reasonable too – without rent, the region is, on average, 30% less expensive than the capital.
In Tunstall, you can also enjoy a cappuccino for less than £3, while a loaf of white bread will set you back just 81 pence. In addition, you'll pay a monthly average of £244 for essential utilities like electricity, heating and water, and just under £40 per month for internet.
According to Numbeo, here's a breakdown of some general grocery costs in Tunstall (price per kilo):
White rice – 97p
Potatoes – 98p
Banana – 93p
Apples – £1.65
Tomatoes – £1.95
Onion – 92p
Local Cheese – £6.13
Chicken Fillets – £5.31
Beef – £7.79
Activities and things to check out
Shopping
Shopping in Tunstall is a delightful mix of traditional charm and modern convenience. From trendy fashion boutiques to quaint second-hand stores, the town creates a unique experience for every kind of shopper.
Additionally, you'll find the main retail centre in the Hanley region, with over 90 big-name high-street shops in The Potteries Centre. Then there's Trentham Shopping Village, with its many charming timber-framed lodges just 1 mile from J15 of the M6 and the A500.
History and culture
As the region is known for its pottery and stoneware, this plays a big part, and The Middleport Pottery Museum is dedicated to its manufacturing past. Alternatively, you might want to pay a visit to Victoria Park, a Natural Heritage site that features bird boxes and a plaque in celebration of local star Robbie Williams.
Immersed within Stoke-on-Trent, the vibrant Cultural Quarter is also a haven for live entertainment. Whether you're a fan of musicals, opera or dance, it promises an unforgettable experience – take a look at these venues to see what's currently showing:
Fun for the family
Tunstall's advantageous location ensures a wealth of exciting opportunities for exploration and entertainment. Among the top attractions in the vicinity, Alton Towers is a must-visit destination and is situated just 20 miles away from the town.
Likewise, if you have little ones, head to CBeebies Land – this enchanting zone is located within Alton Towers. From beloved characters like Postman Pat to its many magical rides, CBeebies Land offers a delightful sensory experience for young children.
Here's what else you can get up to with the family around Tunstall: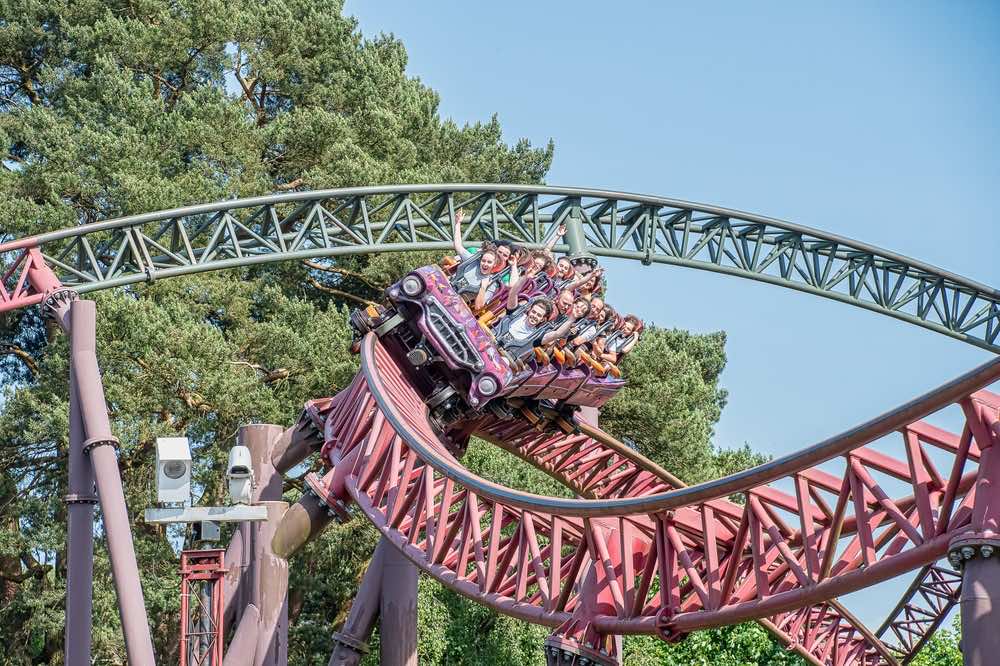 Stoke-on-Trent's many social events!
Stoke-on-Trent boasts a bustling social calendar that is brimming with events all year round. From the captivating outdoor arts festival, The Big Feast, to the spirited Camra Stoke Beer Festival, the city offers a diverse range of cultural celebrations to indulge in.
In the colder months, Winter Wonderland adds a touch of magic, and the region's festivities ensure that there is always something to look forward to. Then there's the UK's biggest Gin and Rum Festival which promises a night to remember (or not). Keep your eyes peeled for more Stoke-on-Trent event announcements.
Tunstall's transport system
Tunstall, located in Stoke-on-Trent, benefits from excellent transport links that provide convenient options for travelling in and around the area. Whether it's by car, bus, train, or cycling, residents and visitors have various means of transportation at their disposal.
Here are some options for getting around the area:
Car – for those who prefer travelling by car, Tunstall is well-connected to major roads and highways. The A50 and A500 provide easy access to neighbouring towns and cities, including Stoke-on-Trent city centre. Additionally, the proximity to the M6 motorway ensures convenient connections to larger cities as well. This means travellers can reach Manchester and Birmingham in just over an hour, making commuting or day trips easily manageable.
Bus – if you're looking to travel afar, you can rely on National Express and Mega Bus to access a variety of towns and cities throughout the UK. For local transportation, however, the primary operator is First Bus Potteries – see their website for bus schedules.
Rail – if you like to opt for the train, the main railway station is near, conveniently situated a mere 14-minute car ride away from Tunstall (4.9 miles). It also offers services to numerous cities across the UK, including frequent high-speed trains that connect to Manchester, Birmingham, and London Euston.
Bike – Stoke-on-Trent also offers an abundance of cycling routes that meander through picturesque landscapes, including scenic canal paths and greenery. So, whether you seek an enjoyable ride or an opportunity to explore Tunstall and the surrounding areas, Brompton Bike Hire serves as the city's premier operator, providing 24/7 bicycle rental services.
The best schools in Tunstall
With Tunstall having access to a diverse range of primary, secondary, independent, and special educational needs schools, it really is a great catchment area. Families with young children also have ample options as well when it comes to baby and toddler groups and top-rated nurseries that cater to their needs.
The best primary schools near Tunstall:
The best secondary schools in the area:
Higher education
Near Tunstall, there are also two prominent universities in the vicinity. The University of Keele, which is located just an 18-minute drive away (5.9 mi), and Staffordshire University, which has its primary campus situated within Stoke and is only 14 minutes away by car (5.7 mi).
Job prospects
In 2022, 97.2% of the labour market was recorded as employed, and opportunities are expected to grow. So, if you're thinking of moving to Tunstall, you're bound to find a new challenge with a multitude of prospects available.
In terms of employment, the healthcare sector is by far the largest in the region, making up just over 20% of roles. Manufacturing companies also make up 11.2% of the local economy. Here are some other sectors you will find in Stoke-on-Trent:
Retail – 9.6%
Transport and Storage – 9.6%
Education – 7.2%
Business Administration – 6.4%
Arts, Entertainment and Recreation – 5.6%
Accommodation and Food Services – 4.8%
Public Administration and Defence – 4.8%
Information and Communication – 4.0%
Design and build – 3.6%
Professional, Scientific and Technical – 3.6%
Wholesale – 2.8%
Motor Trades – 2.4%
Mining, Quarrying and Utilities – 1.4%
Financial and Insurance – 1.0%
Property – 1.0%
Agriculture, Forestry and Fishing – 0.1%
Moving to Tunstall; your essential relocation checklist
1. Get your ducks in a row
After having your offer accepted and securing your home, it's time to bring the little pieces together. With minimal hurdles, the process usually spans approximately eight weeks. To pave the way for a hassle-free property sale or purchase, however, it's important to give priority to the legal aspects from the start.
Begin by conducting thorough research to find a reputable Conveyancing Solicitor and explore mortgage options and make arrangements accordingly. It's also an idea to familiarise yourself with your new setting and coordinate with any new school(s), as well as confirm a moving date with your landlord if you are renting.
2. Finalise the details and pack
With the process well underway, it's time to tackle those tasks, such as contacting your solicitor to facilitate the exchange of contracts and finalise the moving date. This will then allow you to book your chosen removal company, but if you need assistance in transporting your belongings, we have exclusive van hire offers in partnership with Enterprise.
Next, you can begin the packing process by focusing on those non-essential items, and don't forget to declutter your home, clearing out spaces like the loft, shed, and other storage areas. If you find yourself in need of storage facilities, our Tunstall location can help. Feel free to consult our guide on selecting the perfect storage unit to meet your needs.
3. Update your information
When preparing for a move, it's crucial to inform key individuals and organisations of your upcoming change and provide them with your new address. By doing so, you can facilitate a seamless transition and prevent any potential disruptions – here's a list of who to notify:
Family and Friends – inform your loved ones, close friends, and relatives about your upcoming move and provide them with your new address.
Employer – notify your employer or human resources department so they can update their records and ensure important documents and correspondence reach you.
Financial institutions – contact your bank, credit card companies, and any other financial institutions you and your family hold accounts with.
Utility companies – notify utility providers such as electricity, gas, water, and internet service providers to transfer or disconnect services at your current address and establish them at your new residence.
Government agencies – don't forget to notify HMRC and the DVLA to ensure the timely delivery of anything crucial.
Healthcare providers – inform your doctors, dentists, and any other healthcare providers about your move. This will allow them to update your records and ensures seamless continuity of care.
Insurance providers – contact your insurance companies, including health, pet, car, and home insurance, to update your address and ensure you're still fully covered.
Subscription services – notify any subscription-based services you use, such as magazines, newspapers, streaming platforms, or monthly subscription boxes, to avoid interruptions in delivery or billing.
4. Last-minute things to remember
As you approach the final stage of your move, it's important to remember a few tasks. Firstly, make sure to consume or dispose of any freezer foods and perishable items that may not transport well. Additionally, arrange for child and pet care on your moving day, giving friends and family enough notice if assistance is needed.
In addition, don't forget to gather all keys for your current property, including any spares given to any neighbours or friends. Likewise, keep your phone fully charged, and have your charger on you – you never know what the day is going to bring.
5. Relax and enjoy your new home
Congratulations, you are in your new home and no doubt ready for some well-earned rest. Start by prioritising making the beds; this will allow you to quickly unwind and put younger children to bed sooner.
It'll also help to familiarise yourself with the heating to make sure it works. After all, nobody wants to wake up to freezing water and a chilly home. And remember, don't expect to have everything perfect; it'll all happen in time. Instead, take the opportunity to relax and order in dinner.
Streamline your move with self storage in Tunstall
If you're in the process of moving to Tunstall, why not contact our store? We're here should you require short-term or long-term self storage. Located just off the A5271, we're accessible from any local area code, so you can make use of our service no matter where you choose to settle.
Got a question about self storage? Get in touch with our team, or click here to learn how it works.