It's no surprise that, in the midst of the global pandemic we find ourselves in, a huge number of businesses are making the decision to relocate and move premises. Whether that's in order to downsize to save money and make better use of resources or because you've experienced unprecedented growth and are now looking for a new, larger space, if you're planning on moving offices in 20201, we've got you covered with our top tips.
But, while relocating to a new office is super exciting, it can also be stressful – especially if you're the one managing the move. After all, there's nothing simple about coordinating an entire team, expensive equipment and every little detail. Drop in to the mix the impact on staff and clients along with the huge number of logistical issues to consider, and it's something that needs to be handled properly. But, with research finding that 93% of employees say an office move has had a positive impact, both individually and for the company, so it's likely that relocation could be just what you need.
 Take a look at our step by step office moving checklist now to help you get started: 
Step 1 – Preparation and identifying costs
Step 2 – Planning your move
Step 3 – Communicating the move
Step 4 – Packing your equipment
Step 5 – The move
Step 1 – Preparation and identifying costs
When it comes to office moving, knowing where to start is tricky, but preparation is the key to ensuring your office move goes off without a hitch. And, taking the time to properly prepare a relocation plan can help to save you time and avoid any last-minute panic. 
You don't need to have every detail set in stone at this stage, but getting the big picture stuff down will go a long way towards helping you to stay on track and start the process with solid foundations. 
Here's what you need to consider: 
Location:

first, you'll need to establish exactly

where

you'll be moving to. Consider both your employees and your clients when picking a new location – is it easily accessible? Is it in the right location for what you offer and your company values? Will there be enough space for your team to work comfortably?

Future expansion:

do you have plans to grow and develop your staff and offerings in the near future? There's no point moving into the perfect space only to find out it's not suitable for your needs or for you to outgrow it in the near future. HubbleHQ's helpful

office space calculator

could help you figure out how much space you need. 

Your requirements:

while each business is different, chances are you'll have a very specific set of requirements for your needs. Do you often work collaboratively, and so require an open-plan office? Alternatively, do you need ample meeting space for your team to run regular training sessions? Write down a list of must-haves, 
Don't forget to also look at your current property lease to check the rules of your agreement and to see whether you're liable for any property damage when you move out. 
Step 2 – Planning your move
Once you've established where you're moving to, you'll want to get started with planning the logistics of the move. 
Here's what you'll need to do: 
1. Determine a budget: setting a clear budget is key so you know how much money you have to play with. You'll need to factor in the cost of everything – from transport to insurance and everything in between, along with a little extra in-case anything goes wrong.  Not only does this prevent you from overspending but it also helps you to see exactly where you can save money and what the most costly aspects of the move are while helping you to stay on track.
2. Set up a planning team: putting in place a specific team to organise and plan the move will help you to delegate tasks while avoiding the chaos that can happen when too many people try to get involved. You'll need someone organised and clear-headed to be the designated point of contact for the move, and a small team of other trusted employees to oversee the rest of the tasks such as packing, unpacking and organising. 
3. Quotes from moving companies: You'll need help from a company who specialise in office moves to do the heavy lifting and to tick off the 'moving' aspect of your office moving checklist. A quick Google search can help you find companies in your area, or you can put a post out on LinkedIn asking your connections if they have any good recommendations. 
Don't forget to check online reviews to find out what other customers have said, and ask about any other services they can provide, such as packing or clearing up. 
It's also worth checking if you need moving insurance, too – your office is likely to contain expensive items such as equipment and machinery which, if damaged, could cause issues with your companies' productivity.
4. *Important* Up to date records: before you begin, you'll also need an to date employee and client list along with a list and contact details of all suppliers such as food, drink or machinery support, to make sure you're not missing anyone out when communicating your relocation. 
Logistical planning: you'll need to leave enough time to organise your moving arrangements, set a moving date and notify your current landlord that you plan to terminate your lease. You'll also need to:
Design a floor plan:

to maximise space in your new office, get a detailed floor plan and figure out where you'd like everything to go. Not only will this help you make the most of the room you have, but will also save time when it comes to moving day, too.
Arrange for external self storage:

If your new office needs a bit of a makeover before you can actually start operating from it, or you're just looking to store some stuff while you decide whether or not you'll need it, self storage is an affordable and safe option for a range of

business storage

needs. Take a look at our advice on

how to properly pack a storage unit

to avoid damaging your expensive equipment.
Cleaning:

a likely condition of your lease is that you leave your current office space clean when you depart, something that's easier said than done, especially if you run a large company or when you factor in the stress of relocating. Arrange for professional cleaning to come in on the day you hand over your keys to ensure it's up to scratch.
Organise wi-fi and telephone set-up:

a workplace without internet access or working telephone lines isn't helpful to anyone, so you'll want to get in touch with your utilities providers as soon as possible to make sure you get your installation booked in so it doesn't interfere with getting back up and running once you've relocated. 
Once you've got a plan in place, tick it off your office moving checklist.
Step 3 – Communicating the move
This next step is important. Once you've got everything planned, it's time to start letting people know about your relocation. You'll need to clearly explain to each member of staff what their responsibilities are to ensure nothing gets missed, and so that everyone knows what's expected of them. 
Internally
You can use your office move to get feedback from your staff on what they need, from new equipment to seating changes, along with any issues and how they can help with the move. You should keep your team updated throughout so they know what's going on and what's expected of them. 
Similarly, remember to clearly articulate and organise your workflows and how your staff are expected to deliver projects and fulfil any deadlines during the moving process to ensure you're not overlooking important work.  
Externally
While you're in the know about the big office move, what about everyone else? You'll need to announce your move- explaining your reasons, the key dates and the new address, along with any other information they might need to know – which can be done simply by sending an email out to your contact list.  
From clients to suppliers, you'll need to notify the following of your change of address:
Clients

Professional organisations or memberships

Banks, building societies and loan providers

Internet service provider

Telephone company
Don't forget!
Change your address on your websites and social media accounts, too as well as any business directories and your Google listing. You'll also want to update any business cards or letter headers to avoid any issues or appearing unprofessional.
Step 4 – Packing your equipment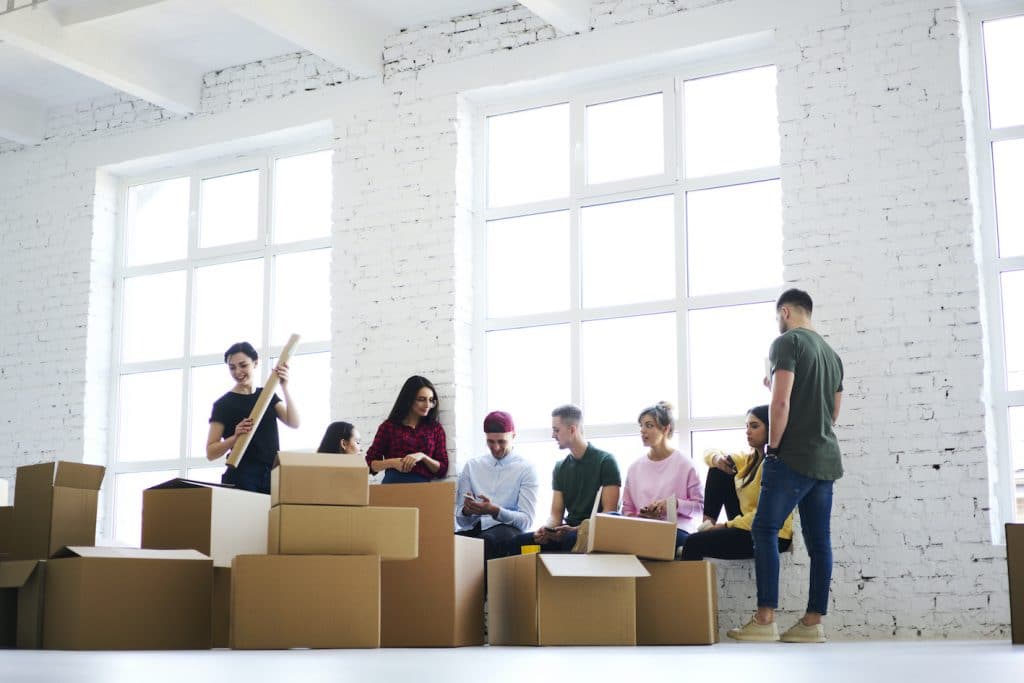 When it comes to packing up your equipment for an office move, it's all about careful planning and preparation. Before you begin the packing process, it's always a good idea to have a declutter to get rid of anything you don't need. 
Not only will this help you to clear some space and get rid of unnecessary clutter, but it'll also help you to gain a clearer understanding of what you might ve missing and anything you might need to buy in order to fit your new office. 
Remember – Create an inventory and organise your packing supplies
Once you've decided what to pack, it's a good idea to create a master packing list so you don't leave anything behind. What you use for packing depends on your budget, timeline, location and how you're planning to move. 
For an office move, you're likely to need a range of sturdy cardboard boxes in a variety of sizes, along with packing tape and extra packing materials such as bubble wrap and marker pens. But, how you pack depends entirely on where you're based and whether or not you have movers to help you lift the heavy items.
For example, if you're moving from a fourth floor office, it's better to pack more smaller boxes than it is to pack larger ones that'll be more difficult to get into the moving vans, while those on ground floor areas may find it easier to use trolleys to transport items from the office to the moving van and vice versa.
Packing – 3 quick tips
Label everything
Once you begin packing, staying organised is key, and the best way to keep track of the items you're packing is to label each box. Not only will it help when it comes to unloading your boxes at your new office, but can also help you quickly locate what you need when you start unpacking, too.
The best way to do it is to use a number, colour coded and spreadsheet system. It's simple – every team or separate area in your organisation is designated a colour, while the boxes are numbered and a brief description of their contents recorded on a spreadsheet. 
That way, if there are any losses or damages during the move, you'll be able to make an accurate claim, while all items will end up in the right place if you've packed and labelled correctly. 
Pack your computers and electronics properly
Your computers and other electronic equipment are likely to be the most essential yet expensive items in your office, and you need to make sure they stay safe and protected during your move. 
To keep them safe:
Assign each computer with a number and unplug each cable, organising them in the correspondingly marked plastic zip-lock bag to avoid tangling them or losing essential parts – you'll appreciate this when it comes to assembling them 

Each monitor should be cleaned and wrapped individually in thick blankets or bubble wrap taped on for protection. 

Don't stack your computers or place them in boxes where they could move around.

It's a good idea to back up your data on a cloud-based service before you move just in case of any damages.=
Protect your office furniture
If you can, disassemble as much furniture as possible – such as desks or office chairs – just remember to keep all the screws and bolts in a handy plastic bag sellotaped to them. 
Use packing materials, surface protectors or thick blankets to prevent dents, scratches, breakage and chips, both to your furniture and your new office space.
Any storage with drawers such as filing cabinets or desks should be taped up, while hollow items such as shelving units can be packed with lighter items to make use of the space.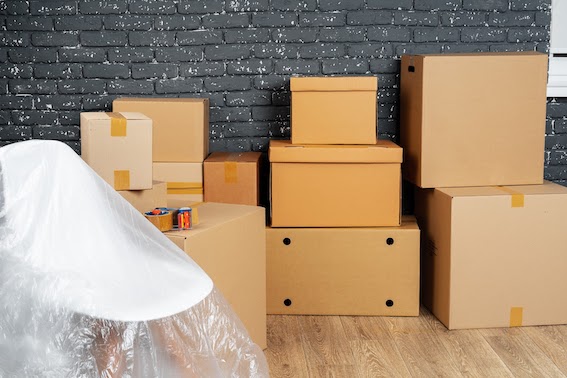 Step 5 – The move
While you might have everything planned, you should never underestimate the stress of the moving process. Start with a realistic plan for how you, and your employees, will be getting from your old to your new office.
Recap
With a solid plan in place and our office moving checklist, you'll be moved into your new space in no time. 
Step 1 – Preparation and identifying costs
Step 2 – Planning your move
Step 3 – Communicating the move
Step 4 – Packing your equipment
Step 5 – The move
There are likely to be teething problems when you move into a new space – from getting the heating just right to figuring out where to put the bins and settling into a new office. Once you've double-checked that your old lease agreement has been terminated, everyone's been notified and all the documents are signed and official, then all that's left to do is sit back, relax, and congratulate yourself for a job well done. 
Do you need some extra space for your
office storage
? 
At Ready Steady Store we offer self storage units to a range of business customers and have stores across the UK, from Worthing to Manchester, Doncaster to Peterborough. With 24-hour CCTV as standard and many of our stores benefiting from additional PIN code access, we offer safety and peace of mind while your items are stored with us.
Find your local store today or get in touch with our team now.