Are you thinking about renting a storage unit for the first time? Whether moving, decluttering your home, or searching for storage space for your business, self-storage facilities can be a lifesaver.
However, navigating the storage world can be overwhelming if you're a first-time user. Knowing some tips and tricks is crucial to maximise your space, stay organised, and keep your belongings safe. This comprehensive guide has got you covered with top tips for first-time storage users. Here's everything you need to know when choosing a suitable storage facility.
How much storage do you actually need?
It's easy to confuse hoarding with being prepared to keep things for the future. We often hold onto items we think have sentimental value, but they take up space. To figure out how much self-storage you need, start by decluttering your belongings and then take stock of the valuable items that require storage.
Before renting a storage unit, look at what you plan to store. This will help you determine the size and quantity of items you need to keep and estimate the appropriate storage unit size. By doing this, you'll avoid renting a unit that's either too small or too big for your needs. Our Size Estimator helps you understand how much storage you need for your belongings.
Location is everything
When it comes to choosing a storage facility, location is critical. Look for a facility near your home or on your daily commute. While a storage facility in a distant area not located in a prime area may offer cheaper rates, the added inconvenience and fuel costs may outweigh the savings.
Do your research and choose a storage facility that has a good reputation and meets your needs. Consider factors like location, security measures, access hours, and what customers have to say. Opting for a well-maintained and secure facility will give you peace of mind, knowing that your belongings are in trusted hands.
Security features
When choosing a storage facility, keeping your valuables safe should be your primary concern. Look for facilities such as ours that offer top-notch security with 24-hour CCTV monitoring, high perimeter fencing, secure and contactless PIN code access, and individual unit locks. These features provide an extra level of protection for your belongings.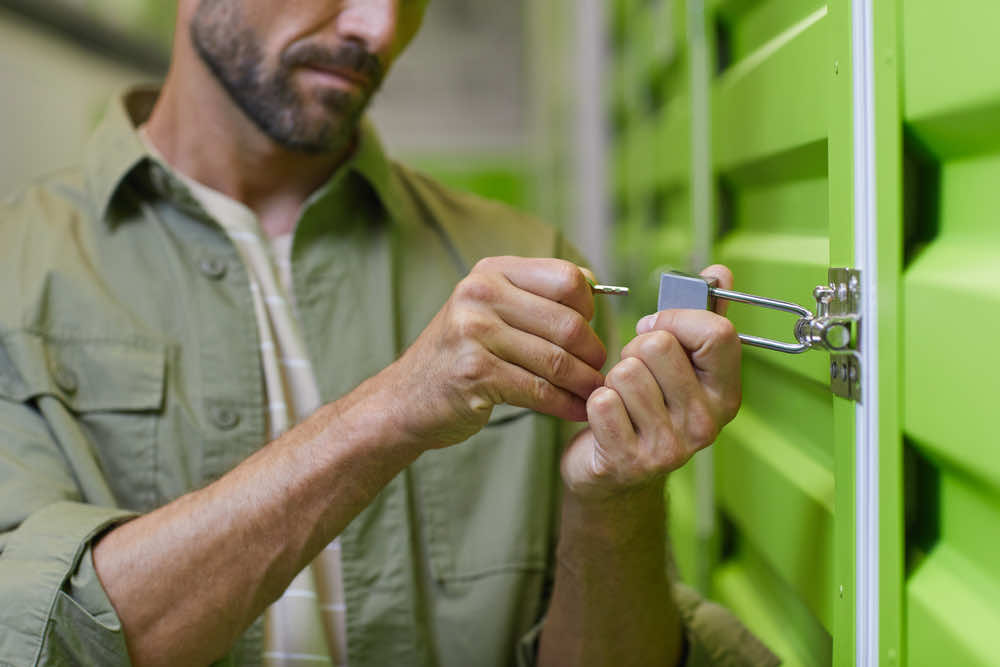 Pack wisely
Simplify your packing process. The easiest way to get through the packing is to sort your boxes by room or item type, whichever you prefer. Clearly label each box, so you can find what you need quickly. It's best to foresee the future here and ensure you're not going through frustrating searches later for your belongings.
When packing your items for storage, use durable boxes, packing materials, and bubble wrap to safeguard fragile items. For even more space-saving, disassemble large furniture whenever possible. Plus, place frequently accessed items towards the front of the unit for added convenience.
Use shelving
Use shelving or racking systems to maximise space and organise your storage unit. Shelving can be particularly helpful for storing stock, paperwork, or individual items. Self-storage facilities like ours offer products that help make packing and storage easy. Our Box Shop features cardboard boxes, packing accessories and materials, and different kinds of locks to suit your storage unit.
Create a system that works for you
Make your life easier by smartly organising your storage unit. Keep the things you use the most or can't live without near the front for quick access. Store tall, bulky items at the back against the wall, especially if you don't need them often. This will create more space to walk and move around. If you don't have shelves, stack boxes along the sides to keep a clear path.
Dismantle large furniture
Create more space in your unit by dismantling bulky furniture like tables and bed frames. Removing the legs and storing the components upright against a wall will maximise your space and make it easier to move around.
Protect fragile items
Protect your delicate items with bubble wrap, packing paper, or towels during transport and storage. Safely pack and label these items as fragile to prevent any damage. Our Box Shop features boxes, storage and packing accessories to help make your packing seamless.
Store clothing properly
If you plan to store clothing, use garment racks and hangers to keep items wrinkle-free and easily accessible. Vacuum-sealed bags are another space-saving option for storing clothes. Read our post on how to properly store clothes between seasons for further guidance.
Use hand trucks and dollies
Make moving items in and out of your storage unit a breeze with hand trucks and dollies. Each of our stores has hand trollies ready and waiting to assist you with loading and unloading boxes.
Keep an inventory list
Make a list of all the stuff in your storage unit to quickly find what you need. Remember to update the list whenever you add or take out anything.
Familiarise yourself with prohibited items
Review the list of prohibited items provided by your storage facility. Commonly restricted items include perishable goods, hazardous materials, and illegal things. Our FAQ page answers your questions on everything self storage related.
Know the access hours
Make sure the storage facility's access hours work with your schedule. Some places have extended access hours upon request, and some even have 24/7 access. Pick one that fits your needs.
If you have more questions about our access hours, visit our FAQ page.
Insurance is important
Did you know that some storage facilities provide insurance options for your belongings? Reviewing your existing insurance policies to see if your stored items are already covered is a good idea. If not, consider buying additional coverage for extra peace of mind.
At Ready Steady Store, we offer a Gold Standard Insurance Policy to protect what you store.
Renting and payments
Renting a storage unit has never been easier! Many facilities like ours now offer Get a Quote and payment options, so you can conveniently reserve your unit on their website. Plus, you can set up automatic payments like Direct Debit directly from 'My Account' to ensure you never miss a payment.
With these top tips in mind, first-time storage users like yourselves should feel more confident and prepared when finding the proper storage unit. Remember, not all storage units are created equal; assess your needs and choose the best option. Use the tips from this blog post to find a solution that works specifically for you or your business. Now more than ever, self-storage is a great way to declutter your living space and keep track of your belongings or inventory.
When finding self-storage, know your options, assess your needs, and ensure you do what's best for you and your family or team.
So, if a clean start or organised system is just what you need, why wait? Grab this opportunity today by discovering quality self-storage facilities near you or where you want to be!