Are you always tripping over charging cables? Do the wires around your desk leave you feeling stressed? There's nothing more annoying than an unsightly mess cluttering up your space. But, for the majority of us, we just can't live without our beloved electronics. From TV cables to phone chargers, there's no escaping wires and cables in today's digital world. 
Whether you're looking for ideas on keeping cables tidy or want to know how to hide ugly routers or additional wiring, read on for our top tips.
Keeping cables tidy around the house
1. Use adhesive hooks or cable ties to secure wires to your furniture
Using your furniture to neatly tuck away unwanted cables and wires is a great way to tidy up your space cheaply and without having to make any major modifications. Small adhesive hooks are an ideal tool for keeping cables secure and out of sight and can be easily removed from even painted furniture without leaving a mark. 
Similarly, the right coloured cable tie can easily go unnoticed on a furniture leg and can be used to stop wires from dragging and hanging down on the floor, meaning you can keep your space tidy and clutter-free, always.
2. Invest in clips to prevent tripping hazards
Cable clips are ideal for any home and help to make your wires and cables less noticeable. Cable and wiring clips are available in a range of different types and materials to suit any space and are often made from durable and hard-wearing metals and plastics.
Nail cable clips are the most commonly used around the home, and are cheap and simple to install – all you need to do is hold your cable in place and then put the clip over it, hammering it until it's secure. You can also buy larger, adjustable cable clips that are used to hold multiple wires at once, perfect for behind the TV or near wireless routers. 
If you're in rented accommodation and aren't allowed to make any modifications to your home, why not grab some adhesive cord hooks or cable clips? Simply use them in the same way you would the nailed versions, then peel off when you move out. Without leaving a mess.
3. Run television cables through the wall
If you've always wanted a wall-mounted TV, but aren't keen on the unsightly tangle of cables that hang down, there are a few things you can do to maintain your perfect aesthetic. 
To run a TV cable through a wall:
You'll need to invest in an in-wall cable management kit for maximum safety – these include everything you need to run your power cables and HDMI cables through the wall – along with a wall bracket to hang your TV.
Before you begin, shut off the power to the circuit to avoid any accidents.
First, install the TV bracket onto the wall in order to determine where your cables will feed through. 
You'll then need to place, level and measure where your outlet will go at the bottom of your wall and cut out the desired space.
Then, do the same behind the TV itself, making sure that it will be hidden by the screen.
Feed the cable from the top outlet and any other TV cables through the wall, pulling them out of the bottom hole and feeding them through the bottom outlet box. You'll need to make sure your cables are long enough to reach.
Finally, plug the power ends together and screw in the outlet boxes to ensure they're secure in your wall and use cable ties to manage cables.
Please note that this will only work if you have a stud wall. Remember, if you have no electrical experience, to hire a professional to carry out the work for you.
If you're in rented accommodation or don't have access to any power tools to complete the job, you can also purchase a cable cover -simply attach it to the wall and funnel your cables through. While it's not invisible, you can paint cable covers to match the colour of your walls for a tidier finish.
4. Get creative
If you have no other choice but to leave your cables in plain view, why not make them into a decorative feature that coexists with your current decor? For example, you can use colourful electrical tape to create a unique pattern, wrap them in colourful yarn or rope, or even add some accessories such as a garland or string lights
5. Create your own charging station
When it comes to everyday items like mobile phones, tablets, e-readers and laptops, creating a dedicated charging station is a great way to avoid cluttering up your tables, counters or communal spaces with endless wires or plugs.
All you need is a space that's near a plug socket  – a drawer or shelf works well for this as it allows you to hide your tech out of the way while it charges. Drill a hole in the back and feed an extension cord through, using adhesive velcro strips to attach it to the back of a drawer or cabinet. All you then need to do is plug in your chargers and you're ready to go! A great idea is to make use of cable clips for even more control over your wires
6. Hide cables in a box
A simple charging box is a great way to keep all of your wires together and in one place and to hide the tangle of cables that often occurs when you use an extension lead. While there are plenty of cable tidies available online, again it's simple to make your own box that fits in with your interiors.
All you need is a good quality cardboard box or shoebox, a craft knife and sticky back plastic in your chosen design.
Cut a hole or slit at each end of your box.
Using the sticky back plastic, cover your box to create a design that fits into your decor.
Then, pop the extension cable inside, plug in your appliances and feed the leads through the holes.
Keeping cables tidy in the office
Whether you work from home or an office, trying to remain productive when your desk is cluttered and messy is almost impossible.
A Workplace Organisation Survey by Brother found that a cluttered or disorganised desk an have a huge impact on not only performance and productivity but also how you are viewed in the workplace, with 40% those in the study admitting that they thought a messy desk meant their colleague was generally disorganised, not great if you're looking to make a good impression. 
Read on for our top tips on how to keep your cables and wires organised in your office space
1. Keep cables close at hand
We've all been there, scrabbling unnecessarily under our desks to retrieve a phone charger or headphones that have slipped just out of reach. With so many cables cluttering up our workspaces, it can be easy to lose those you need the most. But, there are plenty of simple solutions.. Adhesive cable clips are one of the cheapest and easiest ways to prevent cables from overlapping and causing a mess and are available in a range of sizes and styles
In a pinch? Use bulldog binder clips for a great DIY solution for keeping track of your cables!
2. Use tubing and sleeves to group together cables
While they might not be the most aesthetically pleasing option, cable tubes and cable sleeves are useful and affordable products that allow you to keep a number of wires together and out of the way. This is ideal if you have multiple screens, use a desktop computer, or simply have a huge mess of wires that are ruining your space. 
3. Invest in boxes and baskets for additional storage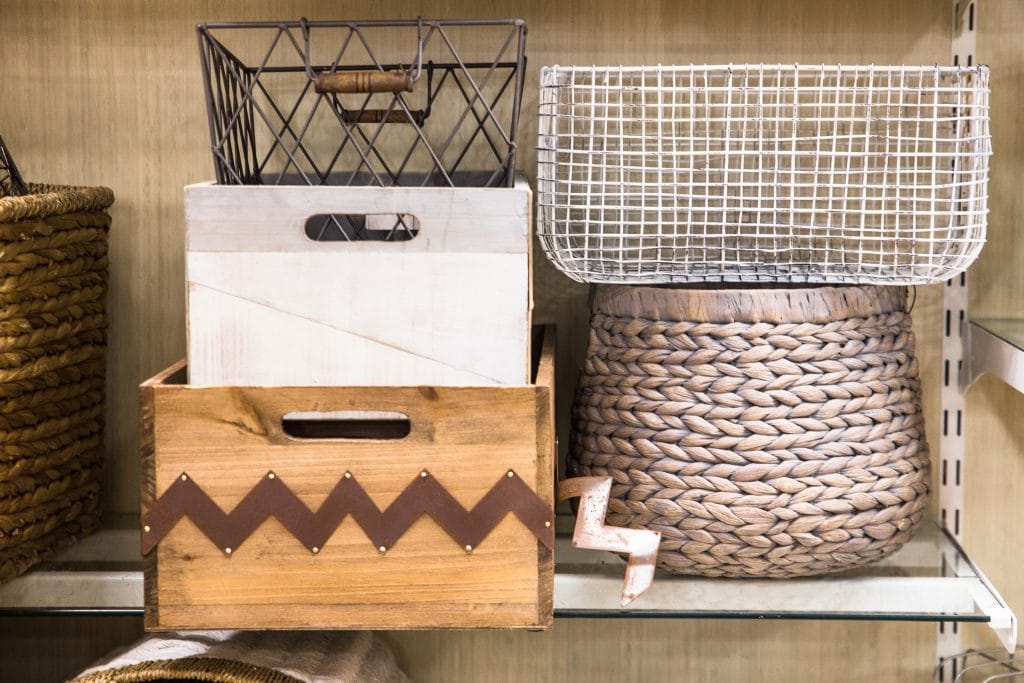 Baskets and boxes are a great way to hide cables and extension leads without sacrificing your decor. From wooden boxes to wire baskets, there are plenty of different options, no matter your interior style. A box or basket with handles works best for this – simply group your cords together with velcro ties and feed them through the back handle. 
Similarly, boxes are a great way to store extra extension cables and chargers when you're not using them. Our top tip? Keep hold of any toilet paper rolls and use them for the ultimate DIY storage solution. Simply stand the rolls up in your basket or box and glue or sellotape them together. You can then gather up your cords and cables and use the 'pockets' of the paper rolls for tidy storage. 
4. Use creative solutions to disguise ugly router and extension cable
It's no secret that, while internet routers and extension cables are necessary, they aren't the most attractive of objects, and, sometimes, you have no choice but to leave them out in the open. But, that doesn't mean they have to ruin your carefully chosen decor. There are plenty of ways to hide bulky electronics – you just have to think outside the box. Our favourite hack is to use hollowed-out books to create a storage box with a difference. You can buy these online, but they're also quite simple to make at home if you have basic DIY skills:
First, measure your router or cables to find out how much space you need and purchase a small crate that will fit your router in.
Next, you'll need to gather a range of books – these should be hardback and the total width of them when stood up should be wider than your router or extension cable. Don't have any books you're happy to lose? Head over to a charity or second-hand shop and pick some up in your favourite colours. 
Using a craft knife or sharp scissors, cut out the pages of the book, releasing them from the cover, and cut around, leaving just the spine. For the two outer sides, you'll want to leave the back and front cover respectively to help cover up the box.
Using a glue gun, attach the two sides first, and then add the remaining books in-between.
Why stop at organising just your cables? Decluttering your home and tidying up your personal space can go a long way towards helping you to create a happy home, and help you feel more organised and relaxed. So, whether you need a small locker to store holiday suitcases or spare cables, or are looking for a larger space or furniture or (something), why not invest in a self storage container? 
Oglciur units offer a safe and secure place to store your belongings and are a flexible storage solution – simply scale up and down depending on your needs. All of our units are locked with our own padlock and key, while our stores are monitored by round round-the-clock CCTV for added security. We also offer unlimited 24-hour access, so you can head into your unit at the best time for you without worrying. Want to find out more? Get in touch with us today, or find your local store now.