2020 research from the Self Storage Association found that 40% of domestic customers using self storage are doing so due to a lack of space. Whether you're decluttering, moving house or upgrading your interiors, storing furniture can help you to take stock of what you have and helps you to create some additional room in your home. 
But, when it comes to furniture storage, there are a number of things you need to consider in order to make sure your valuable furniture is safe, clean and protected. While not everyone knows the correct way to store furniture, we're here to help, so read on for our ultimate guide to storing furniture, complete with top tips to make sure your pieces last for generations to come. 
In summary:
How to find the perfect storage solution for you

Preparing and cleaning your furniture for storage

Wrapping and protecting your furniture for storage

How to pack furniture in your self storage unit 
Finding the perfect storage solution
A general self storage unit provides the perfect opportunity to safely and affordably store your furniture for as long as you need it, while offering the benefits of extra security, such as CCTV or PIN access. 
Determining why you need furniture storage can help you to decide exactly what kind of space you need. Are you planning on keeping your furniture for a while or is furniture storage more of a short-term solution for you? Along with how much you actually have to store, this will help you choose what kind of storage you need.
For example, if you only need a unit for a few weeks at the most you won't need a huge amount of extra room, however, if your storage usage is due to span a few months or even years, it's a good idea to invest in a slightly larger size to allow for better organisation and make it easier and safer for you to move around your space. Find out how much storage space you need now or take a look at our size estimator .
Preparing furniture for storage
Putting your furniture into storage isn't quite as simple as just picking it up and setting off. Instead, you'll need to do a bit of work first to ensure that your precious pieces aren't damaged and that they come out of storage in the same condition they went in.
Start with the basics
Before you begin, gather or make a list of all the furniture you'll be putting in storage and inspect them for any damage or missing parts – after all, there's no point in wasting precious storage space with those pieces you're never going to fix. You can donate or recycle furniture you no longer need, while taking the time to fix any broken pieces you want to keep can help to keep them in good condition while in storage and prevent them from further deterioration.
Thoroughly clean all your furniture
In order to protect your furniture, it's important that you ensure your pieces are completely clean before they go into storage. Not only does this help to keep your unit spick and span, but it also avoids any stains or dirt from deteriorating your furniture while eliminating any crumbs or smells that could attract unwanted rodents from finding their way into your space. Here are our top furniture cleaning tips:
How to clean a sofa for storage:
From eating to sleeping,  chilling to watching TV, we spend a lot of time on our sofas so it's no surprise that, over time, the fabric can become a bit dirty. Avoid dust and mould with a deep clean:
Always check the label first for manufacturer instructions, to find out what fabric is used and to avoid permanent damage

Loosen any debris, crumbs or dirt with a stiff brush

Sprinkle some baking powder or upholstery cleaner over the fabric and let it sit for up to an hour to get rid of any unwanted smells or stains

Hoover it up using the brush attachment
For those with leather sofas, follow steps 1 and 2, and then use olive oil or a leather cleaner to buff out any scratches or damage.
How to clean a mattress for storage:
Cleaning a mattress might seem like a mammoth task, but it's actually pretty straightforward:
Strip the mattress of any duvets, pillows, bedding or protectors

Hoover up any crumbs or dirt, making sure to get into every crack and seam

Get rid of any stains using upholstery cleaner and a damp cloth or you can use baking powder.

Hoover again to remove the cleaning products.

Leave it to air until fully dry.
How to clean wooden furniture for storage:

Using a camp cloth, wipe down each surface to remove any dust

Never use harsh chemicals on wood as it can damage the surface. Instead use a damp cloth soaked in either diluted washing up liquid, mild soap or equal parts vinegar and water to remove any sticky or dirty spots – just remember to wring out the cloth before so it's damp, not dripping.

Polish your wood with furniture wax to protect it from moisture, splitting or damage when in storage.
Remember: you'll also need to check that your furniture is completely dry before you pack it up to prevent mould from forming when in storage. Don't forget to wipe down any leather furniture with a leather protector and polish all metal furniture before it goes into storage to protect it from oxidation.
Dismantle your furniture 
Chances are, the majority of your furniture probably didn't arrive with you fully built. Before you start packing up your furniture, you'll want to take it apart in order to maximise the space in your storage unit and avoid any damages. That means dismantling any desks, bookshelves or wardrobes, removing the legs and headboards from beds. 
Our best tip? Use masking tape and marker pens to label everything so you know which parts go where, and don't forget to keep any nuts, bolts or screws in a handy sandwich bag taped securely to the item to avoid losing any crucial parts.
Wrapping and protecting your furniture
Ensuring your furniture is properly packed, wrapped and covered is crucial to ensure its longevity. This is because in unideal climates or conditions, certain materials can warp, expand or contract while also becoming ruined by excess moisture. Similarly, correctly protecting your more delicate items can protect them from any knocks or scrapes. You'll need to ensure you have the right packaging materials, such as packing tape, blankets, bubble wrap and plastic wrap or sheeting before you get started to make this step easier.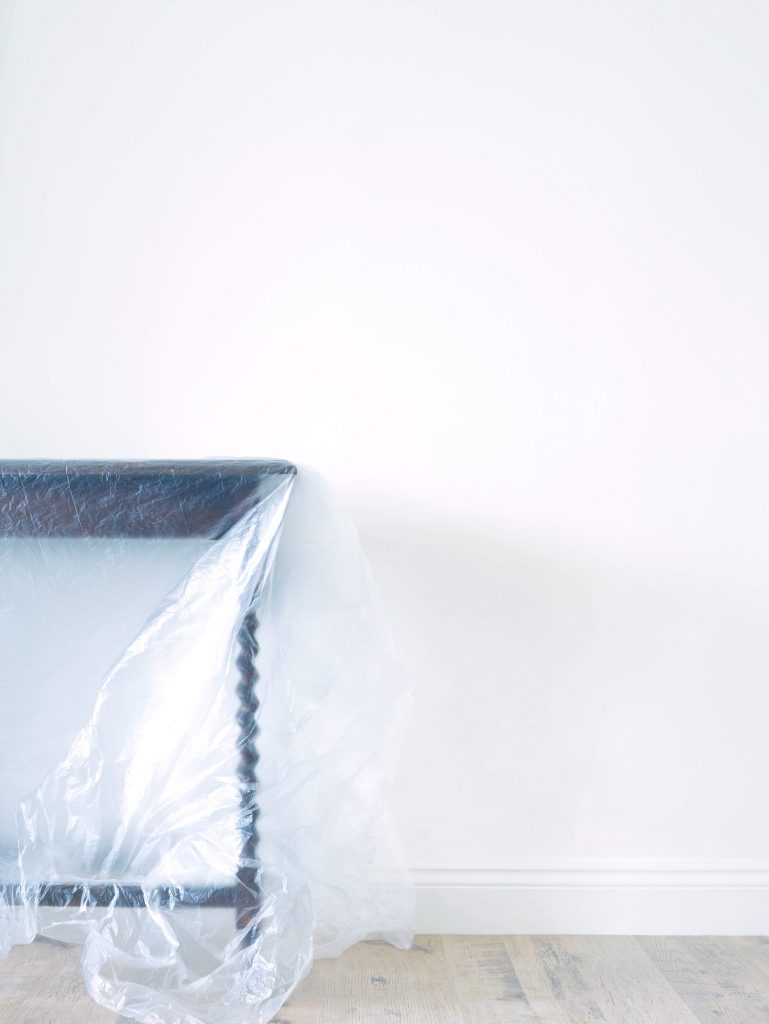 How to store a sofa
After cleaning and drying, you'll want to make sure your sofa is fully protected to keep in perfect condition while in storage. Remove any cushions , and place these in fabric bags to protect them, while the sofa base itself should be covered tightly with thick blankets to protect it during storage. 
How to store a dresser or wardrobe
When it comes to storing wooden furniture, you'll need to make sure you're giving the materials enough room to breathe while they're in storage. After you've thoroughly cleaned your dressers and wardrobes, you'll want to wrap them in thick blankets, fabric or acid-free paper to protect the surface. Next, use plastic wrap or bubble wrap to secure the piece and for additional padding – just remember to never use plastic packaging directly on wooden surfaces as this can cause condensation to form, which can ruin your furniture. 
Packing a mattress for storage
A mattress is an investment, and if you're putting yours into storage, you'll want to make sure it's properly stored to stay in perfect condition and ensure it lasts it's full lifespan. Once your mattress is clean, you'll want to use a thin plastic wrap to cover the entire surface of your mattress, making sure to seal it tightly with packing tape. 
When putting your mattress into storage, make sure you lay it flat to avoid it losing its shape. You'll also want to open your packaging every few months if storing your mattress for a longer period of time to allow the mattress itself to air.
Protecting mirrors, paintings and picture frames 
For maximum safeguarding, these items will need to be properly packed in order to avoid cracks or shattering. Just remember to never tape your artwork or glass directly, as this can cause lasting damage.
Invest in corner protectors to guard the frame, and use strong cardboard to sit on the surface to protect it from dust, dirt and damage. 

Use a layer of styrofoam on top for maximum protection. 

Wrap everything in old blankets, towels or bubble wrap to avoid damage while in storage.
Once everything's packed up, you're ready to head to your storage unit!
Packing your storage unit with furniture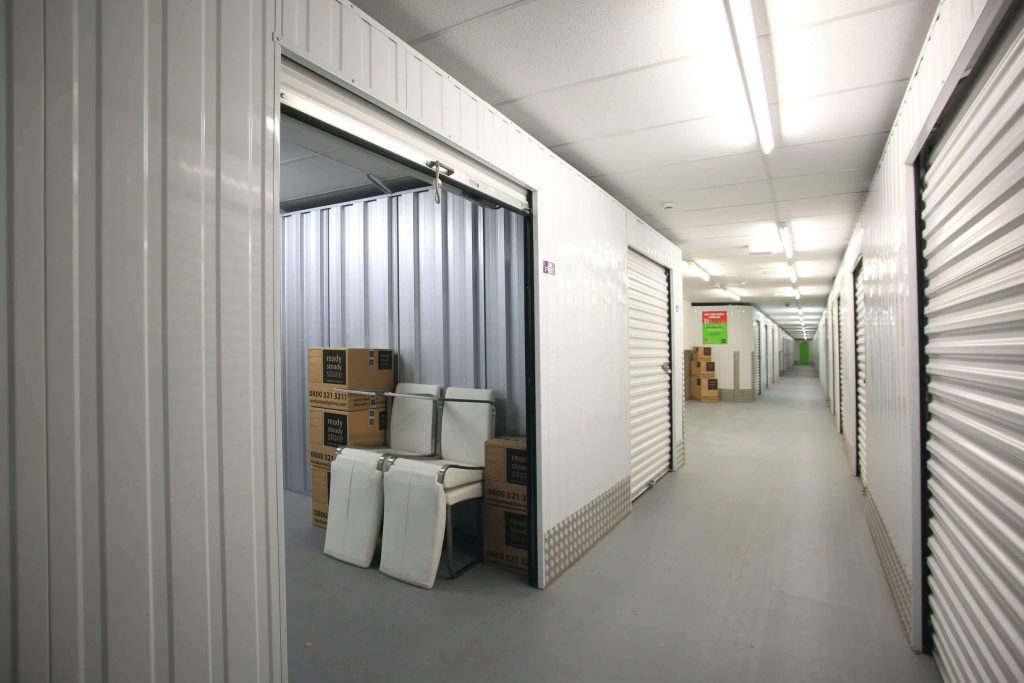 When you arrive at your storage facility, it's important to have a good understanding of exactly how to pack your storage unit to best protect your furniture and maintain a safe environment. Here are our top tips:
If possible, before you start storing furniture in your unit, cover the floor with a thick plastic sheeting to prevent damage from any leftover dust or moisture. This will also make it easier to slide your furniture across the floor when reorganising your space

Make full use of the height of your unit, but be careful not to stack furniture unsteadily on top of one another

Pack from the back of your unit to the front, making sure those items you're likely to need access to the most are closest to the door

If you have enough space, leave aisles between your furniture so you can easily move around your unit

Draw up a rough plan or map of where everything is stored so you don't lose track of your belongings
How much does storing furniture cost?
When storing furniture, how much it costs will depend on a number of different things:
The size of your storage unit:

obviously, the more furniture you have to store, the larger the unit you'll need, and the more expensive it will be.

The length of your contract:

while some providers will 

What packing materials you need:

as we've already discussed, making sure your furniture is protected from moisture, dust and 

Transport:

chances are that your storage provider and your house aren't next door to one another, so you'll need to factor in the cost of actually transporting your goods from your home to your self storage unit
Properly packing up and storing your furniture doesn't need to be overly complicated, and the helpful tips in our ultimate guide to storing furniture can help you to make sure your pieces stay in perfect condition, whether you're utilising storage for a week or a year.
With flexible options and 24/7 CCTV security at all of our facilities, when you store with us you can be certain that your furniture will be safe, secure and protected, always.  Use our store finder to find out more about your local Ready Steady Store and don't forget to visit our size estimator page to help you decide how much space you need so you're not paying for unnecessary storage.
Remember, if you need a helping hand, feel free to give us a call now or visit your local store for more advice.